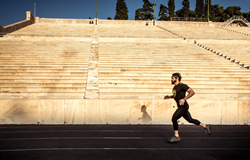 Despite the fact that we won't be in Greece this year, more people than ever will be able to experience the magic of Sparta and the Trifecta World Championship by taking part virtually.
BOSTON, Mass. (PRWEB) October 14, 2020
In a year unlike any other, Spartan, the world's leading endurance sports and extreme wellness brand, has announced it will hold its Trifecta World Championship virtually Nov. 6-8, with free entry and no qualification required. Held annually, the Spartan Trifecta World Championship is the brand's most coveted event on the calendar, and the only invitational. It typically draws thousands of athletes who journey back to the ancient ruins, rivers and mountains of the legendary city of Sparta. In 2020, it has been changed to a virtual, open event. The 2020 Spartan Virtual Trifecta World Championship is powered by Rakuten and presented by Sweet Baby Rays.
As part of the weekend's events, Spartan has joined forces with Target ALS in the relentless pursuit of the first effective treatments, and a cure for ALS, naming the nonprofit organization as the event's official charity partner, launching "The Toughest Challenge For The Hardest Fight."
"This is the first time we've ever held a virtual World Championship," Spartan Vice President of Product David Watson says. "Despite the fact that we won't be in Greece this year, more people than ever will be able to experience the magic of Sparta and the Trifecta World Championship by taking part virtually. This event has all the elements for a massive race, and there is incredible collector's edition swag that you'd usually have to fly to Greece to earn."
The Virtual Trifecta World Championship features the three distances that make up a Spartan Trifecta: the 5k, 20-obstacle Sprint; 10k, 25-obstacle Super; and the half-marathon, 30-obstacle Beast. Racers can choose to compete in one of the distances, or complete all three races over the course of the weekend and earn the coveted Trifecta, and a spot on the event's leaderboard. The event is free and open to athletes of all ages and skill levels, from beginner to elite. Athletes will upload results to their Spartan account to see where they stack up on the leaderboard.
"This is a historic year for a number of reasons, and we want to ensure that our sole 2020 championship event is as epic, given that it falls on the year of our 10th anniversary and the 2,500th anniversary of the Battle of Thermopylae," said Spartan Founder and CEO Joe De Sena. "As part of the weekend, we're excited to join forces with Rakuten, Sweet Baby Rays and our official charity partner, Target ALS, who we are working with to take on a new challenge for the Spartan community: the fight against ALS and the battle for the first effective treatments to combat the disease."
To join Spartan and Target ALS in The Toughest Fight For The Hardest Challenge, visit http://www.ToughestFight.com or opt-in at checkout when you sign up for the Virtual Trifecta World Championship at Spartan.com.
As part of Spartan's new partnership with Target ALS, the two organizations are inspiring everyone to dig deep and find the grit needed to take on the Virtual Trifecta World Championship for a cause. "The Toughest Challenge" is about all of us coming together as a force against the disease which, despite more than 150 years of research, remains without effective treatments that can change the lives of patients and their loved ones. Spartans across the world can join the fight by forming a team and fundraising as part of their participation in the historic race. One hundred percent of donations raised will go to funding promising research and drug discovery programs, as well as critically needed tools for scientists to advance their research.
Commemorating the 2,500-year anniversary of the Battle of Thermopylae — in which 300 Spartans fought to the death despite being massively outnumbered by the Persians – Spartan will bury the names of every 2020 Trifecta World Championship finisher in a commemorative time capsule in Sparta, Greece. Additionally, the top 300 finishers — 150 men and 150 women — will have their names engraved on a Wall of Legends in Sparta to live on in Spartan lore forever.
For more information and to register, visit Spartan.com.
About Rakuten
Rakuten, Inc. is a global leader in internet services that empower individuals, communities, businesses and society. Founded in Tokyo in 1997 as an online marketplace, Rakuten has expanded to offer services in e-commerce, fintech, digital content and communications to approximately 1.4 billion members around the world. The Rakuten Group has over 20,000 employees, and operations in 30 countries and regions. For more information visit https://global.rakuten.com/corp/.
About Target ALS
Founded in 2013 by former deputy mayor of New York City Dan Doctoroff, with support from Bloomberg Philanthropies, Target ALS is a nonprofit organization focused on fostering collaboration to accelerate ALS drug discovery and development. Our Innovation Ecosystem — a radically different approach to medical research — overcomes barriers and brings together the right people, funding and critical resources to drive the development of breakthrough therapies for ALS.
About Spartan
Spartan is a global experiential sport and wellness brand with a 10 million+ strong community. We create transformational experiences, products, and content to help people, companies and teams tear down boundaries and expand what they believe to be possible. Spartan combines large scale global events with a vibrant digital Content and Community Platform. With more than 250 events across more than 40 countries on six continents, Spartan is the world's leading extreme wellness and endurance brand. Visit spartan.com for more information and registration.