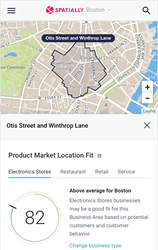 Miami, Florida (PRWEB) May 18, 2017
Product-Market-Location Fit (PML Fit) provides small to medium sized businesses with a customized and highly accurate gauge of the size and demographics of its current or prospective market. It's expressed as a numerical value from 0 to 100, with 100 indicating the strongest suitability for a selected business type or category and 0 indicating the weakest. PML Fit is currently available in Miami, Boston and Seattle metros with plans to roll out nationally by the end of 2017 and will soon be released as a licensed API.
Among the geospatial data modeled and analyzed in the calculation of PML Fit are:

Consumer behavior patterns
Existing distribution of businesses (including complementary and competitor businesses)
Spatial interaction between businesses and customers
General tendency of people from any area to patronize such businesses
"Our Product-Market-Location Fit breaks new ground in making sense of location intelligence and analysis relative to an individual business. We are excited to bring this decision-making support tool to market for small to mid-sized businesses, as well as for franchises, commercial real estate professionals and retail brands," said Spatially's founder and CEO, Hillit Meidar-Alfi.
Spatially's Business Areas, the basis for PML Fit, assign a geographic boundary around small areas with reasonably large clusters of businesses with an inherent locational relationship and a potentially shared customer base. Defining these Business Areas allows Spatially to present information about them and provide for rich comparative analysis.
Additional information about PML Fit:
Business data includes close to 700,000 unique businesses within Boston, Seattle and Miami
Demographic and consumer spending data on just under 7 million workers and 13.9 million residents within these metros
Over 7,000 unique Business Areas
About Spatially
Spatially develops location search and analytics tools that help businesses, real estate professionals and other location scouters to better understand Business Areas and residential neighborhoods. By providing demographics for the people who work and live in an area, the competitive landscape, traffic volume and spending by industry, Spatially presents a comprehensive view of the location dynamics within an area. Spatially launched in January 2017 and currently covers the Boston, Miami and Seattle metro areas. We plan to roll out nationally over the coming months.
For more information, please visit http://www.spatially.com