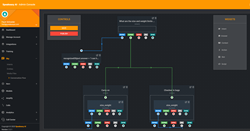 "2020 is going to be a year of partner expansion at Speakeasy AI," said CEO Frank Schneider, "and we're proud to have a compelling solution in conjunction with Genesys."
OLD GREENWICH, Conn. (PRWEB) May 20, 2020
Speakeasy AI today announced a deeper investment in Genesys as a partner solution, given recent successes with their integration. Speakeasy AI's integration with Genesys IVR solutions is demonstrating capabilities for conversational AI for Genesys customers that are unmatched in the IVR industry. Robust real time reporting, faster updates, and expansion of self-service use cases while reducing customer abandons are key benefits. And as a Genesys partner, Speakeasy AI is poised to deliver a fully integrated solution of conversational AI within IVR to Genesys customers across their solution portfolio.
Speakeasy AI is the leader in conversational AI integration with any enterprise IVR. Speakeasy AI's BYOB (bring your own bot) approach to IVR means that Genesys customers will be able to connect any AI platform or Sky™, Speakeasy AI's own voice bot, to their Genesys IVR. Speakeasy AI's ability to nimbly orchestrate AI solutions and integrate multiple bots with Genesys is a win for the IVR marketplace and most importantly Genesys customers.
Speakeasy AI's patent pending speech to intent system enables the creation of a brand vocabulary that is used to truly understand what the customer wants and create business specific data capture and processing flows. This speech-to-intent system combined with improvements by Nerv™, Speakeasy AI's voice neural net machine learning solution, outperforms traditional speech-to-text reliant systems, enabling true conversational AI in voice channels.
Genesys customers will have real time insights into customer conversations revealing intent data to easily update flows or customer journeys. Updates to voice solutions within Genesys IVR now take minutes with this seamless integration, and these new conversation flows can be quickly deployed.
This integrated solution allows intent based routing to be driven by Speakeasy AI and the enterprise's existing AI or bot content, or Sky™, Speakeasy AI's voice bot, while opening up the door to many new self-service use cases within Genesys IVR. Additionally, the consistency of experience and brand voice across digital and voice channels will be delivered in the way practitioners in the space have always hoped.
Speakeasy AI's agent assist solution is also now fully integrated with Genesys to allow for live AI enabled assistance to call center agents. Speakeasy AI's agent assist can listen to human agent and customer interactions and provide assistance that reduces agent handle times, automates workflows and post call wrap up notes or processes, and empowers agents to handle calls more confidently. Agents' time to proficiency and speed from training to actual work on the floor is reduced with the help of this AI assistance for live voice calls. Additionally, agents' behavior and work within the agent assist tool enables easy improvement of the AI corpus or self-serve knowledge base.
Amplify™, Speakeasy AI's customer journey reporting tool, wraps up this entire conversational self-service strategy; empowering Genesys users to quickly understand the wins and losses of their improved conversational IVR and live agent assistance, while enabling quick changes to improve the customer experience.
"2020 is going to be a year of partner expansion at Speakeasy AI," said CEO Frank Schneider, "and we're proud to have a compelling solution in conjunction with Genesys."
If you are a Genesys customer who wants to see or rather hear firsthand what Speakeasy AI can do to raise the bar of IVR performance, digital bots, and your live agents, please contact Speakeasy AI for a low risk, low resource Active Listening Engagement today.
Genesys customers can use the Speakeasy AI integration during Active Listening phase as well as with the full delivery of the Speakeasy AI solution.
To see the Speakeasy AI and Genesys integration in action contact Speakeasy AI at hello@speakeasyai.com or visit http://www.speakeasyai.com.
About Speakeasy AI
Our mission is to make it easier for businesses to understand and respond to their customers' needs in voice with AI. We accomplish this mission by using our patent pending Speech-to-Intent™ solution. Our voice AI system can be used within IVR to provide better understanding and solutions to customer needs, and in the call center to listen to customers and prompt agents with answers, via Agent Assist. With our end-to-end reporting and our next generation conversation manager, we provide a full solution for voice AI that can be leveraged in any voice channel. We are bot independent so BYOBot or use Sky™ from Speakeasy AI. And since an AI platform is only as good as its improvement cycle, we enable rapid updates powered by machine learning to ensure wins are delivered on the day you launch. With our voice AI solutions and our team's proven expertise, we work tirelessly to provide better voice experiences and deliver understanding as a service. Learn more at http://www.speakeasyai.com.