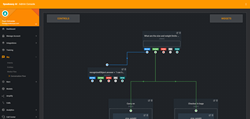 "...Sky™ circumvents traditional design issues while enabling true customization and control."
OLD GREENWICH, Conn. (PRWEB) April 24, 2020
Speakeasy AI today announced the release and general availability of its next generation conversational voice bot, Sky™. This latest release works seamlessly within the Speakeasy AI solution, including Amplify™ customer journey reporting and Nerv™, our custom voice neural net. Speakeasy AI can now allow for management of complete conversational AI experiences within Sky while maintaining BYOB (bring your own bot) capabilities within voice channels. This means customers will have the option to deploy Speakeasy AI with or without an existing digital chatbot(s). Sky's conversation management also allows for actions that call upon those other AI investments, empowering AI orchestration with "bots talking to other bots" to provide the right answer, experience and action for the customer. Sky can manage conversations across the breadth of self-service customer journeys and engagements, all while enabling the quickest and most robust update cycle in voice automation.
Sky™ empowers Speakeasy AI users to tailor conversation flows that leverage context wrappers to ensure multiple intents can be recognized during a customer conversation. This means appropriate actions can be initiated across varied contexts in play. While taking a hotel reservation the user might ask about parking fees; Sky can provide an answer and then resume the reservation. Sky makes it easy to gather information to make bookings and complete processes. Sky's entity extraction (for number variables and proper nouns) component utilizes Speakeasy AI's patent-pending speech-to-intent technology that doesn't rely on transcription alone. This means increased accuracy related to specific business related vocabulary, and a full end to end solution.
Sky™ has been developed to provide advanced bot functionality that can be easily setup and maintained without custom development. Open API's are available to easily connect to multiple back ends with the help of our conversation flow designer. The conversation flow designer takes a drag and drop studio pallet approach to allow business users to easily craft custom voice flows. Sky makes conversational design intuitive and directly connected to business goals and desired outcomes. Sky was built aligned with industry standards for conversational AI design to allow for easy use and transition for designers who are familiar with other tools.
"We set out to create a conversational AI manager that gives real power and control to users around industry standards like entities and slots," said CTO, Moshe Villaizan, "but Sky™ circumvents traditional design issues while enabling true customization and control. The full Speakeasy AI solution provides a powerful foundation of trust between AI and the business it serves."
"Providing a conversational management tool that is agile, powerful and understandable is key to achieving conversational AI that works for businesses and customers," said CEO, Frank Schneider, "Moshe and our team have created a full solution that will define conversational AI practices moving forward and most importantly, serve our customers and their customers' needs."
Sky™ will be available to customers during Active Listening phase as well as with the full delivery of the Speakeasy AI solution.
To see Sky™ in action contact Speakeasy AI at hello@speakeasyai.com or visit http://www.speakeasyai.com.