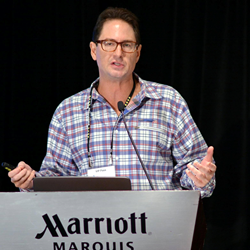 With this presentation I wanted to really cater to the people in the trenches marketing online like: affiliate marketers, web publishers, bloggers, and online entrepreneurs.
Fort Lauderdale, FL (PRWEB) September 28, 2016
Affiliate Summit has released to the public the speaking sessions from Affiliate Summit East 2015. Evan Weber is one of the conference's most popular speakers based on session attendance and attendee feedback. Evan's session was titled: 10 Proven Ways to Make Money as a Internet Marketer. It covered topics related to marketing on the Internet in various ways such as: affiliate marketing, lead generation, search engine management, social media, referral marketing, and other topics related to earning money though digital marketing/advertising.
Evan Weber stated about his presentation, "With this presentation I wanted to really cater to the people in the trenches marketing online like: affiliate marketers, web publishers, bloggers, and online entrepreneurs. I wanted to power them up with ideas of how to make money online in 10 various ways that were very practical in nature. Also to explain how these strategies can apply practically to an existing project or a new project." Evan Weber is one of the most popular speakers at the Affiliate Summit conference, having been named the most popular speaking session 2 years in a row at the Affiliate Summit West shows. Evan stated, "I really strive to have the busiest session because it's important to me to reach a lot of people with my content. Not to mention the notoriety it brings is really exciting too. I'm looking forward to defending my title in January."
The presentation covered the following 10 points:
1. Affiliate Marketer - promoting banners, links, emails.
2. Business Referrer - be a conduit for business referrals.
3. Online Merchant - sell online and build your customer list.
4. Lead Generation - a massive opportunity to build a company.
5. Affiliate Manager - massively needed by Ecommerce companies.
6. Social Media Manager - fastest growing position in digital marketing.
7. Media Buyer - the mover and shaker in a company procuring traffic.
8. Search Engine Expert - still desperately needed by companies of all sizes.
9. Digital Agency - providing ad platform management and online strategies.
10. Courses/E-learning - a proven online money making concept.

Here are the presentation slides.
Here are the presentation notes that were covered in the presentation and passed out to the audience so they could follow along.
About Experience Advertising
Experience Advertising was founded by Evan Weber in 2007 and offers a comprehensive affiliate marketing solution for those looking for a truly proactive approach to growing their affiliate marketing channel. With dedicated affiliate managers, professional copywriting, site creation tools, and other various tools to assist their affiliates to produce more sales, Experience Advertising provides many resources to help their clients achieve their goals through their cutting-edge affiliate management services. Their services are aimed at businesses in both the roles of affiliates and publishers and offer various online marketing solutions to help maximize their potential. Experience Advertising excels in the areas of:
targeted affiliate marketer recruiting
outsourced affiliate program management
24/7 affiliate support
helpful affiliate resources and education.
Experience Advertising also provides the following digital agency services to their clientele based on their needs:

Website conversion rate optimization
SEO - organic traffic generation through content and video
SEM - paid search management
Social media management
Facebook advertising management
Twitter advertising management
Shopping engine management
Amazon seller central management
LinkedIn advertising management,
Native advertising
Video marketing
Experience Advertising is a full-service digital marketing agency and an award-winning affiliate management agency. Founder and CEO Evan Weber is a highly sought after digital marketing conference speaker, having won the coveted most popular speaker session designation at back to back Affiliate Summit West conferences. Mr. Weber is also a highly regarded digital marketing and online advertising consultant.