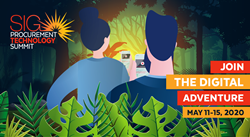 Knowledge sharing is so important right now, which is why this Summit is free for all SIG member companies, and attendance is unlimited for buy-side members.
JACKSONVILLE, Fla. (PRWEB) April 16, 2020
SIG, the premier membership organization for sourcing, procurement, outsourcing and risk executives, today announces the presenter line-up for its Procurement Technology Summit. The event will take place entirely online from May 11 to May 15.
The interactive digital environment of the SIG Procurement Technology Summit will feature keynote speakers, breakout sessions with live Q&A, and a virtual Innovation Hall with platform demonstrations that showcase how artificial intelligence, machine learning, and robotic process automation are transforming procurement and driving better outcomes for businesses.
The Summit agenda includes a diverse array of procurement industry experts and practitioners. Below is a short-list of Summit speakers and the entire agenda can be viewed on the Summit website.
Carlos Burgos, Director, Strategic Sourcing, College Board

Jason Busch, Founder, Azul Partners/Spend Matters Nexus
Michele Flynn, Executive Chairman, SIREAS
Michel Janssen, Chief Research Guru, Everest Group
Alpar Kamber, Corporate Executive Vice President & Head of Procurement Services, WNS-Denali
Joseph Martinez, Chief Procurement Officer, BNY Mellon
Mike Morsch, Vice President Global Procurement & Supply Chain, CDK Global
Sarah Scudder, President, Real Sourcing Network
Colette Temmink, President, Property Services, Eden
Jeff Tramel, Vice President, Global Procurement, NTT Data Services
"Now, more than ever, procurement professionals need the knowledge that will come from attending this Summit. What we share is going to help companies through the supply chain disruptions we are facing and may continue to face," said SIG CEO and President Dawn Tiura. "We also need to learn from each other how to avoid inherent risks in a shifting supply market and carry this knowledge into the future. This is why the Summit is free for all SIG member companies, and attendance is unlimited for buy-side members."
Attendees will also have the opportunity to meet and interact with the world's most innovative procurement solution providers and take part in Solution Experiences that will feature the latest advancements in procurement technology with in-depth analysis from Spend Matters analysts. Below is the current list of Innovation Hall technology providers:

App Orchid
Beeline
COSTDRIVERS
GEP
Grubhub
Guidant Global
Medius
PRO Unlimited
SAP Ariba
Seal Software
VNDLY, Inc.
Additionally, when SIG member companies register to attend, they can use their allotted Summit "seats" for a $1,000 credit to enroll in SIG University's Certified Sourcing Professional (CSP) program. The CSP program is SIG University's longest-running certification program and is recognized as the most well-rounded curriculum available for sourcing professionals.
The first 350 buy-side registrants will also receive a free #SIGventure Kit filled with fun swag and treats from SIG's Summit sponsors. For more information, visit the SIG Procurement Technology Summit website for the full agenda, FAQs and non-member pricing information.
About SIG 
SIG, https://sig.org/ is a membership organization that provides thought leadership and networking opportunities to executives in sourcing, procurement and outsourcing from Fortune 500 and Global 1000 companies and the advisors who serve them. SIG is widely known as a forum for sharing "next" practices and thought leadership through live networking events, virtual forums and a comprehensive online SIG resource center (SRC), which was developed by and for professionals in sourcing and outsourcing. The organization is unique in that it blends practitioners, service providers and advisory firms in a non-commercial environment. SIG is also the parent organization for SIG University, a one-of-a-kind certification and training program for professionals and executives seeking deep expertise in sourcing and governance for themselves or their teams, as well as Future of Sourcing, which provides unrivaled digital content for the opinion-formers and decision-makers at the heart of the outsourcing space.