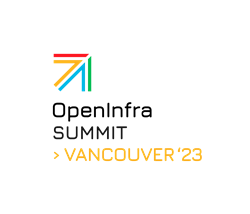 OpenInfra users and supporters will engage in more than 100 sessions around infrastructure use cases like cloud computing, edge computing, hardware enablement, and security.
AUSTIN, Texas (PRWEB) February 08, 2023
The schedule for the 2023 Open Infrastructure Summit (OpenInfra Summit), released today, features keynotes and sessions from users like Bloomberg, LINE, Alibaba Cloud, Samsung and Volvo. The event will be held June 13-15, 2023, at the Vancouver Convention Centre overlooking Vancouver Harbor. Other notable speakers include Ant Group, the Australian Research Data Commons (ARDC), China Mobile, SAP, and Viettel, the largest public and private cloud infrastructure provider in Vietnam.
The Summit will be a limited-capacity, sellout event. Due to the COVID-19 pandemic, this will be the first in-person OpenInfra Summit held in North America since 2019.
***Register today: https://openinfra.dev/summit/***
OpenInfra users and supporters will engage in more than 100 sessions around infrastructure use cases like cloud computing, edge computing, hardware enablement, and security. The Summit is focused on helping users compose, integrate, and operate these different technologies to solve real problems at scale.
In addition to sessions on projects directly supported by the OpenInfra Foundation—OpenStack, StarlingX, Kata Containers, Airship, Zuul, and OpenInfra Labs—there will be a strong focus on LOKI (Linux, Kubernetes, and OpenStack Infrastructure) and over 30 other open source technologies relevant to infrastructure operators, including Docker, Ansible, Ceph, Istio, Envoy, Magma, OpenContrail, ONAP, OPNFV and many more.
The full event agenda is organized by use cases, including AI, CI/CD, containers, edge computing, hardware enablement, HPC, hybrid cloud, NFV, security, and public and private cloud.
Featured sessions include:

Samsung SDS will discuss how it set up an OpenStack-based cloud in multiple regions and multiple zones in order to enable applications to run on multiple zones as well as support disaster recovery with multiple regions. Primary technologies used include a Kubernetes control plane, Ceph file clusters, and OpenStack Keystone across zones and various architecture assessments.
Osnabrück University of Applied Sciences will discuss a five-year research project that has been implemented since mid-2022 as part of a private 5G campus network. The central component of the IT infrastructure is OpenStack, which has been in use since 2016, and StarlingX was harnessed this year to implement a mobile edge cloud in a mobile data center.
Volvo Cars Corporation's session will cover how it uses AWS and Azure to run both the backend of Zuul as well as jobs. This involves both the use of Elastic Cloud Kubernetes clusters as well as more common nodes.
LINE is an instant messaging service based in Japan with 176 million active monthly users in the major four markets. LINE will discuss how its cloud powered by OpenStack increased its footprint to 4 million cores, a 150% increase compared to 2021.
Bloomberg's OpenStack-based private cloud, which is made of thousands of physical machines, has become the home of tens of thousands of VMs and the foundation for its core applications. When it came to upgrading the operating system of the physical machines, the Bloomberg team wanted to not only speed up the process, but also minimize the impact on the engineers and end-users. This session will cover the journey and lessons learned along the way.
Ant Group and Alibaba Cloud will share highlights from their use of Kata Containers 3.0, including Dragonball, a new built-in hypervisor; a new async Rust runtime; and an integrated design bringing an out-of-the-box user experience. Kata 3.0 is the community version of an in-house developed hypervisor-based container runtime called RunD. It has been used in Ant Group's production environment and in Alibaba Cloud's serverless platforms.
…And over 20 sessions covering OpenStack and Kubernetes integration in production, including how to deploy and manage bare metal Kubernetes with Ironic.
***Register for Early Bird savings by February 15***
Prices for weeklong and day passes will increase at 11:59 pm PT on February 15.
Members of the media can contact jennifer@cathey.co for information about how to cover the event.
"Open infrastructure was quickly embraced by the world's most powerful research institutions, telecoms, manufacturing conglomerates and public cloud providers, and through their leadership and contributions, OpenInfra is now being adopted by enterprises of all sizes," said Thierry Carrez, general manager of the OpenInfra Foundation. "The OpenInfra Summit is a time to celebrate this progress and collaborate with many different open source stakeholders to drive further innovation. Come to share and learn, and let's challenge each other to make an indelible difference in the coming year through open infrastructure."
Wind River is the Headline Sponsor for Vancouver 2023 Open Infrastructure Summit. Learn more about sponsorship opportunities.
About the Open Infrastructure Foundation
The OpenInfra Foundation builds communities that write open source infrastructure software that runs in production. With the support of over 110,000 individuals in 187 countries, the OpenInfra Foundation hosts open source projects and communities of practice, including infrastructure for AI, container native apps, edge computing and datacenter clouds. Join the OpenInfra movement: http://www.openinfra.dev