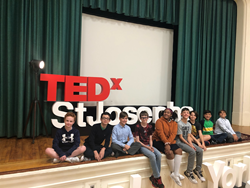 "I love the program! It's had an amazing impact on me, built my confidence as the speaker I am today and what I hope to accomplish tomorrow." -Zena Gardner, 13-year old SpeakWell Student
NEW YORK (PRWEB) March 08, 2021
In celebration of International Women's Day, SpeakWell, a public speaking and leadership program for students, announced today a generous contribution from an anonymous donor that will provide ten scholarships specifically for girls from the Partnership Schools to attend the 8-week premiere, leadership program. Partnership Schools is a network of nine urban Catholic elementary schools in New York and Cleveland that serve almost 2,400 students. Given school closures, the program is currently being offered via Zoom.
"We are beyond grateful for the grant and excited to work with the Partnership Schools, students and team," said SpeakWell founder and lead instructor, Patty Kennedy. "As a speaker and 15-year entrepreneur, I am well-aware of the need to help all students - and particularly our girls - find their voice and build self-esteem. It's critical to success and frankly, being happy."
"I love the program!" said 13-year old Zena Gardner, the first girl to participate in the SpeakWell program and one of the country's first female TEDx speakers from a K-8 school. "It's had an amazing impact on me, built my confidence as the public speaker I am today and what I hope to accomplish tomorrow."
The SpeakWell program began in 2018 as an after-school program in NYC. The original students became the first in the country from a K-8 school to each deliver TEDx talks, where they shared ideas to create a better world. Today, and over the course of the pandemic, those 12 and 13-year old students have written and published national articles, spoken on corporate panels at companies including UBS and BT, around critical issues ranging from COVID-19, racism, social media, anxiety and depression and the importance of finding your voice. Similar opportunities are accessible for all who complete the training.
The program also includes high-profile leadership role models including retired NBA players, actors, journalists, scientists and business leaders who speak to the students about confidence, resilience, community and character, messages that – according to the students - are critical to boosting their self-esteem - particularly while schools are closed, social development is interrupted and both the National Institute of Health and Center for Disease Control reporting teen depression and anxiety is on the rise.
Nominated for several awards, the SpeakWell program has grown from nine students to more than 100 across the US and Europe in less than a year.
"Our goal is to reach and teach 10,000 students in the next three years and grants are critical to achieving that goal," said Kennedy.
Spring sessions begin the week of March 8. Interested parents and schools can sign up on the website at http://www.speakwell.rocks/trainings. Interested funding partners please contact info@speakwell.rock.
NOTE TO REPORTERS: For Interviews, please contact Natalie York at 1-703-431-4766
About SpeakWell
SpeakWell is a public speaking and leadership after-school program that teaches critical leadership, speaking and life skills. SpeakWell middle school students have delivered TEDx talks, spoken on panel discussions at international companies, written national articles and far exceeded 12th-grade speaking and listening standards. The program combines a mix of social, emotional and leadership learning, enabling students to build confidence, and self-esteem, speaking and leadership skills, and access to opportunities that demonstrate those skills. As part of the program, distinguished role models including professional athletes, business leaders, actors also speak to the students about building self-esteem, resilience & work ethic. Highlights video: https://vimeo.com/472775552. For more info visit: http://www.speakwell.rocks
About Partnership Schools
Partnership Schools is a network of nine urban Catholic elementary schools in New York and Cleveland serving almost 2,400 students - as a private school management organization. They operate outstanding schools that provide students from underserved communities with the academic preparation, values and skills they need to break the cycle of poverty and lead fulfilling, productive lives. Moreover, as communities of faith and learning, Partnership Schools are uniquely poised to empower families with a real choice—the opportunity to afford a values-focused education that will prepare their children for high school, college, and citizenship.