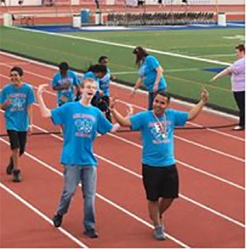 These two young men are not only remarkable athletes, but have expressed a bond of friendship that transcends the challenges they have both faced – our goal is to ensure they both have a chance to compete in this event
Dallas, TX (PRWEB) May 03, 2017
The Golseth Agency, a privately owned firm offering asset protection services and financial planning assistance to communities throughout the greater Dallas/Fort Worth region, is announcing several updates concerning a Special Olympics charity event benefitting two local athletes.
The athletes sponsored by the charity event, Garrett (left) and Lorenzo (right), are best friends that are scheduled to compete in an upcoming event. Both were diagnosed with autism at a young age, although Lorenzo has enjoyed fewer therapies and social opportunities due to limited financial circumstances.
The charity event to sponsor these two athletes began in February of this year and will continue through April. To date, several hundred dollars have been raised to support the two boys, however the funding goal of $500 has yet to be reached.
"These two young men are not only remarkable athletes, but have expressed a bond of friendship that transcends the challenges they have both faced – our goal is to ensure they both have a chance to compete in this event," says Maria Golseth, owner and principal agency of the Golseth Agency.
Ongoing efforts to gather support for the young duo over online social media and email channels have drawn in support from many families in the community, and the Golseth team is rallying to reach the funding goal before the close of April. Additional publicity efforts have included an article in the Golseth Agency online magazine "Our Hometown," and a second article featuring Garrett and Lorenzo is planned for release this month: http://www.thegolsethagency.com/Our-Hometown-Magazine_47.
The Golseth Agency has been an ardent supporter of charitable organizations in the Dallas region for the last several years, and has actively assisted well over a dozen local nonprofits. As members of the national "Agents of Change" charity assistance program, Golseth and her team plan to continue hosting charity events for new causes on a bimonthly basis.
Those who wish to join the Golseth Agency and support Garrett and Lorenzo are urged to make an effort to support these athletes before the end of April by following this link: http://www.thegolsethagency.com/Best-Friends-Compete-In-Special-Olympics-Together_29_community_cause. All charity drives hosted by the Golseth Agency in the past are detailed on the firm's Community Causes roster: http://www.thegolsethagency.com/community-cause?page=2.
About The Golseth Agency
The Golseth Agency's mission as a team is to provide the best insurance and financial services in the industry. Their number one job is to protect the current assets clients have worked so hard for, and to help them invest so they can retire with the right amount of money. Golseth's success is measured by customer satisfaction and the value they bring. The capable agents at The Golseth Agency can be easily reached at 817-540-1133 and 972-874-8200.