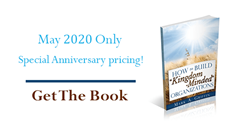 LANCASTER, Pa. (PRWEB) May 01, 2020
How to Build "Kingdom-Minded" Organizations by Mark A. Griffin was published in 2012. Its popularity resulted in a Spanish language version being later released. Organizations across the US, UK and other countries now use it as a guide for both leadership teams and their boards of directors.
How to Build "Kingdom-Minded" Organizations, is being offered for a short time at a special anniversary pricing to help organizations weather the pandemic's resulting economic devastation.
From the 2008 global financial crisis through to today's COVID-19 pandemic, the world has endured some of the toughest economic times since the Great Depression, with both business leaders and employees enduring unprecedented circumstances, trying to survive. Too often, our workplaces have become devoid of hope and genuine purpose, despite being where many of us spend so much of our time.
Author Mark A. Griffin, an HR consultant and career coach, has traveled to particularly hard-hit countries like Ukraine, India, Honduras, Nicaragua, Haiti and the Dominican Republic, researching, partnering and exploring alternative ways to alleviate poverty through job growth versus the charity model that more often fails. There is a better way to do business, Mark Griffin insists. In How to Build "Kingdom-Minded" Organizations, Mark continues to inspire Christian business leaders intent on creating a values-led organization to bring Christ into the workplace.
With simple and effective tools designed to constructively integrate the teachings of Christ into any organization, How to Build "Kingdom-Minded" Organizations provides the starting point for those who want to create, build and develop their own profitable values-led business as a stable, positive environment in which employee wellbeing is enhanced, improving quality and productivity. Radical, inspirational and affirmative, Mark Griffin's template is an idea whose time has come.
With over 25 years as an HR executive in private to high-profile Fortune 500 companies, Mark Griffin has emerged as the leading thought expert in human resources from a Christian perspective and speaks at conferences nationwide. Mark has also inspired thousands of listeners through a network of Christian radio stations and a 12-part podcast series based on his book.
Through his organization, In HIS Name HR LLC, Mark is on a mission to provide world-class human resources consulting to enable clients to be prosperous yet Kingdom-minded, by instilling a Christian ethos and establishing goals that reflect that.
Learn more about Mark A. Griffin and his quest to help the Christian-owned company live their faith by visiting him at http://www.InHISNameHR.com, or connect with him on https://www.linkedin.com/in/markagriffin/. How to Build "Kingdom-Minded" Organizations is available on Amazon.com.
Contact:

Mark A. Griffin, In HIS Name HR LLC, 717-572-2183
HWeller@InHISNameHR.com