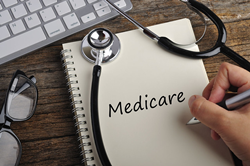 The outbreak and rapid spread of the coronavirus pandemic has made normal Medicare enrollment significantly more difficult in some areas of the country," Rich says
CLEARWATER, Fla. (PRWEB) May 19, 2020
With the pandemic dictating how the country operates and moves forward, the Federal Emergency Management Agency (FEMA) declared that All 50 states, the District of Columbia, and four territories have been approved for major disaster declarations to assist with additional needs identified under the nationwide emergency declaration for COVID-19.(1) In response, the Centers for Medicare and Medicaid Services (CMS) have recently granted a special enrollment period (SEP) for Medicare beneficiaries who were unable to enroll during the normal election period due to the coronavirus crisis. "The outbreak and rapid spread of the coronavirus pandemic has made normal Medicare enrollment significantly more difficult in some areas of the country," says Dave Rich, CEO of Ensurem LLC— a growing online multi-carrier insurance brokerage. "We need to reach out to seniors living in affected areas and make sure they understand the SEP."
As stated by the CMS, the SEP is available from the start of the incident period—which is defined as the effective date of the President's initial emergency declaration on March 1—and for four full calendar months after (through the end of June).(2)
According to Ensurem, here are some key points regarding this policy:

This SEP is available nationwide to residents of all states, tribes, territories, and the District of Columbia effective March 1, 2020.*
This declaration does not mean that all Medicare beneficiaries get an SEP. To be eligible, beneficiaries must meet certain criteria. All other rules apply.
For those who qualify, the SEP opportunity will run through June 30, 2020.
*Note: Beneficiaries will not be expected to provide proof that they were affected by the pandemic-related emergency
What does this mean for beneficiaries?
Beneficiaries who were eligible for a different election period but were unable to enroll* in a plan during the allotted time period have until June 30, 2020, to enroll.
Enrollments received are effective the first day of the following month.
*Note: This applies to anyone that could have used the MA-OEP SEP but did not
Rich, whose company specializes in the Medicare market, notes that navigating the vast array of coverage options and making the best decision can be daunting—nonetheless doing so amidst a pandemic. Ensurem's goal is to facilitate the exchange of information between the rapidly growing U.S. senior population and the healthcare industry via innovative, user-friendly technology.
"The COVID-19 pandemic makes this a unique time in our history, becoming more concerning—and even frightening—for seniors every day," Rich says.
This is a rapidly developing situation that could see changes at any time, so it is imperative for those who may be affected by this policy get the most up-to-date information possible. Ensurem's contact center, which logs over 2,000 calls per day, is standing by to handle calls from seniors in question as to whether they are affected by these extended deadlines. The contact center has access to those FEMA-designated areas that have been impacted across the nation and is available to answer general questions pertaining to coverage options. The contact center is open Monday through Friday from 9:00 a.m. to 8:00 p.m. ET at (800) 729-5109 (TTY: 800-631-3750.)
"We cannot assume that seniors will focus on the various enrollment extensions available, or even understand them," Rich says. "It's critical that we communicate this to our seniors right now; up-to-date information is available through the Ensurem contact center.
About Ensurem
Ensurem, headquartered in Clearwater, FL, is a leading technology and product distribution company serving carriers and consumers within the massive U.S. senior market. The company provides end-to-end solutions for carriers, including product development, digital marketing, and consumer-centric front ends and back end. For more information, visit http://www.ensurem.com.
1. "COVID-19 Disaster Declarations." COVID-19 Disaster Declarations | FEMA.gov, Federal Emergency Management Agency (FEMA), fema.gov/coronavirus/disaster-declarations.
2. MacDonald, Ilene. "CMS Clarifies Actual Dates of Special Enrollment Period Due to COVID-19." RISE, 11 May 2020, risehealth.org/insights-articles/revenue-quality/cms-clarifies-actual-dates-of-special-enrollment-period-due-to-covid-19/.
# # #