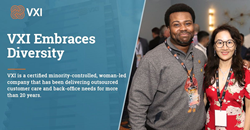 "We prioritize employee safety and put our employees first," said Peter Mullen, VXI Vice President of Marketing. "We're excited to hire hundreds of local employees in each of our markets."
LOS ANGELES (PRWEB) September 10, 2020
VXI Global Solutions, an award-winning customer experience management (CX) and business process outsourcing company, today released a special report highlighting its best-practices guide for employee health safety in its U.S. locations and simultaneously announced meaningful U.S. hiring plans for the remainder of 2020.
"Passion and Purpose: VXI's Response to Covid" focuses on the company's actions during the initial Covid-19 crisis to ensure employee safety. It offers practical tips for other businesses to manage future similar crises.
As lockdowns began, VXI moved thousands of employees to work-at-home (WAH) environments in days. Partnering with local governments, the call-center company ensured business continuity for its clients while maintaining safety-first work environments at its facilities.
When the coronavirus began to spread in January, VXI's Co-Founders David Zhou and Eva Wang, formed a cross-functional task force comprising leaders from management, operations, and client services to focus on three priorities:

Employee health
Business continuity planning (BCP)
Strategic long-term support
The report details how the company transitioned the majority of U.S. employees to work-at-home environments and how it developed the "VXI 10-Point Safety Plan" as a how-to guide for other local businesses to follow.
Subsequently, teammates who have returned to onsite work adhere to the VXI safety protocol, which includes:
Wearing face masks at all times
Regular hand washing
Following social distancing
Reconfigured sites to provide adequate space
Providing daily temperatures checks
Registering and home isolation if a person is suspected of infection
Providing extra safety personnel to ensure safety guidelines
Thoroughly cleaning and disinfecting facilities during off-hours
As result of its employee-first approach, VXI has experienced business growth as U.S. corporations turn to trusted partners for call-center support. In the six U.S. markets where VXI operates, the company has become one of the most active hiring organizations. Expected hiring is primarily for business expansion and includes a portion of existing positions experiencing normal employee turnover:
Youngstown, Ohio: 400 employees
Canton, Ohio: 300 employees
Lubbock, Texas: 300 employees
Atlanta, Georgia: 300 employees
Los Angeles, California: 200 employees
Tucson, Arizona: 400 employees
In addition, VXI expects to hire more than 1,200 fully remote workers by year end.
"Our Special Report is a great example demonstrating how companies can put their employees first and still maintain business continuity," said Peter Mullen, VXI Vice President of Marketing and Communications. "We're excited to strengthen our presence in local communities and share our best practices."
Download the VXI Special Report at https://bit.ly/31OsRyh.
Explore VXI job opportunities at https://jobs.vxihires.com/.
ABOUT VXI
VXI is a customer experience company, passionate about designing solutions that augment its clients' business processes to deliver higher revenue, greater profitability, and happier customers. Founded in 1998, the company has more than 34,000 employees across 42 locations in North and Latin America, the Caribbean, Europe, and the Asia Pacific. VXI offers omnichannel customer care and growth services using technology and tools, including a unified communication platform and purpose-built productivity-enhancing applications that drive higher sales conversion, CSAT, and related key metrics for its clients. Known for its transformation mindset, the company's IT arm, Symbio, offers digital and business transformation solutions that are seeded in its innovation philosophy of co-creation and seamless augmentation. https://vxi.com.