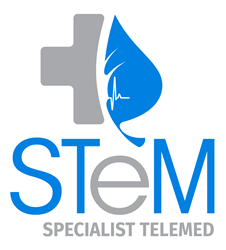 DENVER (PRWEB) February 01, 2021
Specialist TeleMed (STeM) is a leading provider of telemedical services throughout the country, providing services in more than 19+ medical and surgical specialties. STeM provides both inpatient and outpatient specialist services supporting communities small and large. By supporting local providers and existing specialists in a synergistic, non-competitive manner, STeM allows facilities of all sizes to thrive and grow. Importantly, by reducing unnecessary transfers and facilitating care locally, STeM helps increase the local standards of care.
More About STeM
STeM has been practicing telemedicine since 2016 and has grown to offer more specialties than any other provider in a value-based, patient-first delivery of care. Whether the facility is a critical access hospital (CAH), or a primary medical system, STeM has the physician service experience that can support the hospital mission and maximize patient satisfaction through telehealth.
Specialist TeleMed (STeM), based in Denver, Colorado, is a physician-led company offering 19+ inpatient and outpatient specialties for virtual care consultations. Fully-accredited by the Joint Commission for Ambulatory Health Care. For more information, please visit SpecialistTelemed.com or contact: 1-800-975-1652.