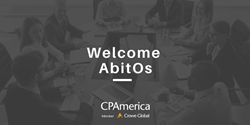 "We are very excited to join this wonderful organization," said Raimundo Lopez Lima Levi, managing partner of AbitOs. "We look forward to collaborating with all the member firms, in navigating the complex world of international tax."
GAINESVILLE, Fla. (PRWEB) March 02, 2020
AbitOs headquartered in Coral Gables, Fla., with offices in Aventura, Boca Raton, and Homestead has joined CPAmerica, Inc., an accounting association of independent, certified public accounting firms that provides shared best practices, networking opportunities and access to expert resources for member firms.
AbitOs is a specialized consulting firm focused on providing solutions to complex international tax problems. They are experts in the areas of structuring, pre-immigration planning, business valuations, fraud and forensic, tax planning and amnesty tax program compliance. The firm is proud of providing their clients big four expertise with a boutique personalized experience.
"We are very excited to join this wonderful organization," said Raimundo Lopez Lima Levi, managing partner of AbitOs. "We look forward to collaborating with all the member firms, in navigating the complex world of international tax."
As an exclusive association of independent CPA firms, CPAmerica provides opportunities for its members to continuously improve. CPAmerica is a member of Crowe Global, which has members in more than 750 offices in more than 130 countries and ranks among the top-10 global accounting networks.
"We are happy to welcome AbitOs into the growing CPAmerica community," said Alan Deichler, president of CPAmerica. "They belong to a group that is determined to improve through sharing and where members support each other's success through discussing best practices, sharing experiences and building professional relationships."
Each firm undergoes a rigorous quality review prior to obtaining membership in CPAmerica. Only those firms with the highest standards in all practice areas are approved by the council of members.
About CPAmerica, Inc.:
An accounting association made up of independent certified public accounting firms that built on four key goals: to continuously improve; to make more money; to strengthen relationships among member firms; and to bring prestige to firms both domestically and internationally. As a member of the eighth largest global accounting network Crowe Global, CPAmerica expands to over 283 independent accounting and advisory services firms in 130 countries, and has a combined firm revenue of $4.4 billion. Learn more about CPAmerica at http://www.cpamerica.org.