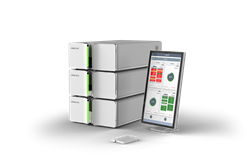 "Our goal is to efficiently and effectively serve all customers in the broader European market," said Mr. Tony Bazarko, Chief Commercial Officer for Specific. "The addition of this UK office and increased commercial UK headcount allows us to achieve that goal."
MOUNTAIN VIEW, Calif. (PRWEB) March 11, 2021
Specific Diagnostics today announced the formation of its third European subsidiary, Specific Diagnostics UK Limited. This latest expansion allows Specific to have a commercial footprint in the UK as it begins its commercial operations in France, the U.K., Germany and the Middle East.
"We're pleased to announce this latest step in our European commercialization," said Dr. Paul A. Rhodes, Specific's CEO. "With the positive initial response to our technology, evidenced by high profile evaluations and demo discussions in the UK, forming a local operating subsidiary will allow us to better serve this important market."
Specific's launch in Europe began in France, where 7 distinguished evaluation sites are deployed or planned. Evaluations and customer demand is now driving the company to increase commercial headcount and investment in the UK as well.
"Our goal is to efficiently and effectively serve all customers in the broader European market," said Mr. Tony Bazarko, Chief Commercial Officer for Specific. "The addition of this UK office and increased commercial UK headcount allows us to achieve that goal."
About Specific
Specific Diagnostics has developed in vitro diagnostic systems based upon a unique, patented metabolomic signature technology that enables rapid detection and identification of microorganisms as they grow in culture. Its first commercial application applies this fundamental new platform to the rapid determination of antimicrobial susceptibility directly from positive blood cultures, as well as isolate dilutions. Specific is based in Mountain View, CA.
For press inquiries, please contact: press@specificdx.com