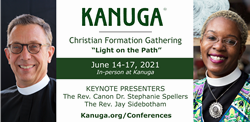 "There will be time for worship, spiritual growth, reflection, imagining, dreaming and mapping our future with the hope of endless possibilities." —Cookie Cantwell, conference coordinator
HENDERSONVILLE, N.C. (PRWEB) April 28, 2021
With The Rev. Canon Dr. Stephanie Spellers and The Rev. Jay Sidebotham serving as keynoters for its Christian formation event, Kanuga begins its transition from virtual to in-person events this summer.
The Rev. Canon Dr. Stephanie Spellers serves as Presiding Bishop Michael Curry's Canon for Evangelism, Reconciliation and Creation Care. A well-known author, her latest book, "The Church Cracked Open: Disruption, Decline, and New Hope for Beloved Community," was released this month by Church Publishing. Curry says, "This book will make a profound difference for the church in this moment in history."
The Rev. Jay Sidebotham is director of RenewalWorks, a ministry of Forward Movement, and Associate Rector at St. James, Madison Avenue in New York. RenewalWorks seeks to build cultures of discipleship in Episcopal congregations, with a singular focus on spiritual growth among congregants. He has served parishes in Washington, DC, NYC, Illinois and North Carolina. A graduate of Trinity College and Union Theological Seminary, prior to seminary study, he worked in New York in animation, illustration and advertising. He appreciates the opportunity to produce cartoons for the wider church, describing the joys and challenges of parish ministry.
While some presenters will conduct sessions virtually, the majority, including both Spellers and Sidebotham, will be at Kanuga for the event. We want to "show everyone what a safe, socially distanced, nourishing time in the spirit can look and feel like," says Spellers.
Kanuga Christian Formation, created in 1928, will be the first event held in-person since Kanuga suspended operations for several months in 2020.
"It's been an incredibly hard year. We are enthusiastic and joyful to be able to begin anew, and to once again serve as a holy ground for the sacred connections between each other and Creation," says Executive VP for Mission Jimmy Haden.
The theme for the gathering, "Light on the Path," reflects the difficulties of the past year as well as hope for the future. Cookie Cantwell, event coordinator, says that her team of volunteers is working hard to provide an experience that will help participants navigate the challenges and joys of life, formation, and ministry. "There are lights in our lives that show us the way, and we need those lights so we can follow Christ and be the people of God that God wants us to be."
"The gathering will allow time for conversations as we consider the path that we have traveled during the past twelve months. There will be time for worship, spiritual growth, reflection, imagining, dreaming and mapping our future with the hope of endless possibilities. The paths that we will travel together will share the light of hope, opportunities, awareness, laughter, joy, and friendships," Cantwell says.
Kanuga Christian Formation is open to all who want to learn and to gather with old friends and new, both lay and ordained.
For a full list of presenters, program snapshot, schedule, registration, rates, and lodging information, visit Kanuga.org/Conferences. Registration is open through May 24.