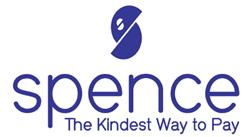 Spence is fast, easy, safe and secure, making a customer's experience kinder than it's ever been.
CHICAGO (PRWEB) August 03, 2020
Financial technology startup Spence Labs announced today the launch of Spence, a new cashless payment solution for the cannabis industry. Following its successful launch at multi-state operator PharmaCann's Verilife dispensary in North Aurora, Illinois, Spence plans to expand nationally to all PharmaCann locations in the coming months. The innovative platform lets dispensary customers pay for cannabis purchases with their mobile phones, eliminating the need to carry cash or visit an ATM inside the dispensary. Consumers can sign up in just minutes for a Spence account at GoSpence.com, then pay digitally in just seconds from their web-based Spence app.
"We're excited to offer a new level of convenience and significant security advantages to both consumers and dispensaries through this new digital payment platform," said Chris Rentner, co-founder and CEO of Spence Labs. "Spence is fast, easy, safe and secure, making a customer's experience kinder than it's ever been."
Spence is a turn-key national system for both dispensaries and technology companies in the cannabis industry, offering two solutions: First, mobile payments for retail customers and cannabis delivery; and second, a simple API allows dispensaries or cannabis tech companies to quickly embed digital payments in their own platforms.
The Spence platform is fully integrated into dispensary point-of-sale systems at the register as well as tablets carried by dispensary staff. When ready to purchase, customers simply display a unique Spence QR code to be scanned by staff, then enter a PIN to confirm their purchase. Funds are transferred automatically with state-of-the-art encryption and processed by Chicago headquartered Burling Bank, an FDIC-insured private banking partner.
"Legal cannabis businesses have had to rely on excessive amounts of cash to run their dispensaries, which is an operational and compliance headache for banks," said Michael Busch, president and CEO of Burling Bank. "Spence's cashless solution offers consumers a safer and more secure way to pay while creating multiple efficiencies for dispensary operators and addressing the transparency and compliance requirements of the banking industry."
Purchasing legal cannabis is one of the few consumer transactions left that still predominantly requires cash, noted Rentner. "Consumers have become accustomed to paying by card or app for virtually everything else. Spence brings the same level of convenience to the dispensary that one now expects at a coffee shop or ordering a carshare service, but with the confidence, security and trust you feel at a bank," he said.
In addition to the security and simplicity of cashless payment, in the midst of the COVID-19 pandemic, Spence facilitates contactless payment and easy curbside pickup or delivery of cannabis, removing the burden of cash handling between consumers and dispensary attendants, as well as storage and security concerns inside the dispensary.
Further, Illinois state regulators are also strong proponents of more readily available financial services for consumers of legal cannabis, believing such services will ensure greater regulatory oversight and a more equitable cannabis industry overall.
Spence also provides dispensaries with avenues for increased customer engagement and retention, with the ability to offer coupons, execute frequent-buyer programs and special rewards, and notify customers of specials and events directly through the platform.
"We are pleased to be partnering with Spence to provide a cashless payment option for Verilife patients and customers," said Brett Novey, CEO of PharmaCann. "Spence shares our belief that the experience to access medical and adult-use marijuana should be as seamless as possible. We're excited to enhance our customer experience as we make Spence available in the coming months in our Verilife locations, offering the value-add of a simple way to pay."
About Spence Labs
Spence Labs, Inc. is an innovative financial technology startup developing cashless payment and customer relationship platforms for the cannabis industry. The company is headquartered in Chicago. For more information, please visit http://www.gospence.com.
About Burling Bank
Founded in 1989, Burling Bank is a full-service, FDIC-insured independent community bank located in Chicago. An active supporter of technological innovation and community inclusion in banking, Burling Bank delivers a future-forward approach to financial services that empowers clients to manage their personal and professional banking needs from anywhere, at any time. For more information about Burling Bank, please visit http://www.burlingbank.com.
About PharmaCann
PharmaCann Inc. is one of the nation's largest, privately-held, vertically-integrated cannabis companies, providing safe, reliable, and high-quality cannabis products to people in both the medical and adult-use markets. PharmaCann currently operates in six states and holds licenses to operate up to five cultivation centers and 26 dispensaries within its geographic footprint. For more information about PharmaCann, please visit http://www.pharmacann.com.
About Verilife
PharmaCann Inc. operates its dispensaries under the name Verilife. Verilife is committed to helping people feel better and live better by dispelling outdated perceptions associated with cannabis and encouraging a new appreciation of its many benefits. For more information, please visit http://www.verilife.com.
###