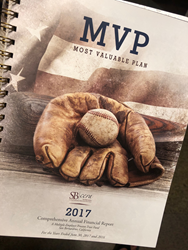 "Our main goals are that the customer is happy and the work is good," he said. "If we win an award along the way, great!"
RANCHO CUCAMONGA, Calif. (PRWEB) December 11, 2018
Rancho Cucamonga-based Spencer Lewis Marketing Group wraps up 2018 with honors from two professional associations for its creative work to effectively convey an emotional message about the financial reports of two Southern California public agencies.
The American Advertising Federation-Inland Empire bestowed a Silver and four Bronze awards to Spencer Lewis Marketing for its work on the 2017 San Bernardino County Employees' Retirement Association's (SBCERA) Comprehensive Annual Financial Report (CAFR), Popular Annual Financial Report (PAFR), 25 Year Member-Versary Postcard, One Year Member-Versary Postcard and the 2016 Orange County Employee's Retirement System (OCERS) Comprehensive Annual Financial Report (CAFR).
The Public Relations Society of America-Inland Empire also honored Spencer Lewis Marketing with a Polaris Award for its work on the 2017 SBCERA Comprehensive Annual Financial Report.
"It's nice to see the team, our clients and us at Spencer Lewis, get recognition for the creativity and hard work that goes into these important projects," Spencer Lewis Marketing Group Founder, Shawn Glaspell said. "It's confirmation that we are keeping our creative services at a high level."
The SBCERA Comprehensive Annual Financial Report and Popular Annual Financial Report covers display a textured photo of a baseball in an early 20th century baseball glove over a bat and the United States of America Flag. The acronym "MVP" is at the top of the cover in big and bold letters. But instead of "MVP" meaning "Most Valuable Player," the reader sees the acronym stands for "Most Valuable Plan." The old baseball theme continues through the rest of the reports.
A smiling and chocolate cake-covered face of a toddler greets readers of SBCERA one-year anniversary postcard with the headline, "Congratulations, you're one!"
The 25-year postcard cover shows a Polaroid photograph of a young man talking on an old landline telephone next to a bulky 1980's or 90's computer monitor on his first day on the job. Next to the Polaroid is a smartphone with the image of a smiling silver-haired employee working on a sleek laptop. The headline congratulates workers on their 25 year anniversary and reminds them a lot has changed since they started their career, but one thing remains the same – their secure retirement from SBCERA.
For the 2016 Orange County Employee's Retirement System's annual financial report, Spencer Lewis created a cover depicting art, farm-fresh produce, a smiling silver surfer and a saxophone with the title, "Good Vibes of the OC."
"Our goal with annual report projects like these is to have a secondary communication part to it, a theme," Glaspell said. "We use the theme to provide the reader with some nice graphical information to what could be viewed as a dry read about the county or retirement."
This year's bunch of awards are among many accolades consistently earned over 20 years by Spencer Lewis. Glaspell said working with the client as a team to develop creative and effective ideas is the key to their success.
"We all are very invested in how a project turns out. We all get excited once it is printed and we see the fruits of our labor," Glaspell said. "It's nice to hear the positive comments our clients get from outside the organization about the annual financial reports which kinda double as a coffee table book with their interesting themes."
The awards, Glaspell added, show the Spencer Lewis Market Group takes pride in the projects of its clients.
"Our main goals are that the customer is happy and the work is good," he said. "If we win an award along the way, great!" A list of additional awards Spencer Lewis has earned can be found at http://www.spencerlewis.com/awards .