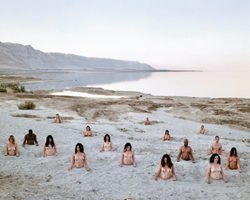 ARAD, Israel (PRWEB) October 04, 2021
Artist-photographer Spencer Tunick is returning to the Dead Sea Region to make a new Live Nude Group Installation Artwork on October 17th. The live artwork will coincide with the launching of the brand-new Dead Sea Museum's virtual exhibition of Tunick's photographs containing all of his Dead Sea photographs taken over the last 10 years. It's the first time these works are presented together. The exhibition is on view through April 21, 2022 and can be visited from anywhere in the world by visiting http://www.thedeadseamuseum.com.
The exhibition contains photographs from 2011, 2012 and 2016, including never before seen photography from the Ein Gedi and Ein Bokek waterfalls where a group of 30 women participated. The virtual exhibition consists of still photography, but also a video room, where a single-channel video is projected on the wall. Some well-known scenes come to life in this footage, bringing the visitor even closer to a long-gone environment that should still exist.
Ten years ago, on September 17, 2011, Spencer Tunick created his first Dead Sea Installation. He enlisted 1,200 Israelis and travelers from other countries to pose in and around the salty waters of Mineral Beach. The images captivated the world. Part of their appeal was an almost communal atmosphere; without clothes or any other artificial matter, the group of people transcends class, religion and nationality. They simply appeared together in a moment in time, sharing an environment that welcomes their presence. A first glance at these images might invoke a Zen-like feeling, yet the harsh reality of the Dead Sea disappearing at a rapid pace is asking for a very different analysis. Knowing the urgency, one could also feel these people committed to a joined effort to protect the Dead Sea.
There is no way to determine a date in these photographs by looking at them. Witnessing 1,200 people with no suggestion of time is rare. The complete absence of fashion or any form of design makes these works timeless; simply human bodies in an environment of water, mud and rocks. It looks eternal: past, present and future in single frames.
Now, time is of the essence, since the land and seascapes visible in these photographs are gone. Of course, the people in this installation moved on, too. They are a decade older; their bodies more seasoned, and their minds filled with ten additional years of experiences. Most still live, but way more alarming is that parts of the sea have perished. One would expect a sea to remain, but the Dead Sea is truly dying. The environment, utterly as vulnerable as the human bodies that posed within it. An eternity that has been saved in a single frame, has perished in reality. It is both shocking and mystifying.
The locations in Spencer Tunick's 2011 installation are now unrecognizable. The water has retreated and dangerous sinkholes have transformed Mineral Beach and many other places in the region. Tunick went back to the Dead Sea in 2016 to create new installations, exploring the sink holes that changed the landscape so dramatically. These works are presented in the exhibition as well.
It seems only right that these preserved moments in a lost landscape are presented in a virtual exhibition. It's there, it's real, and yet it isn't. Everyone can join Tunick's ephemeral moments, on the web or in Virtual Reality – yet visiting the actual location will not measure up to its past.
Tunick said, "To immerse yourself in the preservation of a natural cause with one's art is a very rewarding experience, but it also comes with the sad realization that often man-made disasters are hard to stop. This does not mean one should not try to make a difference. With my works at the Dead Sea, I attempt to poetically visually create pushback against the loss of a natural wonder of the world. The works touch on the hope that early warnings of environmental catastrophe will spark quicker responses from people. Change does not happen in a vacuum, sometimes it takes art to spread the word."
The Dead Sea Museum is founded to raise awareness of the dire situation in this area. The museum begins as a virtual entity, but a physical museum in Israel's city of Arad is currently being planned. Tunick returns to the region to create a third installation in this unique landscape, to embolden us all to do what is needed to save the Dead Sea from complete oblivion.
(For optimum VR experience, when viewing exhibition from a computer or laptop, please use Chrome browser and avoid Safari.)