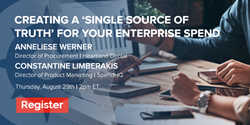 ATLANTA (PRWEB) August 27, 2019
SpendHQ, the leading SaaS spend analysis solution created for procurement and sourcing leaders, presents a webinar with Heartland Dental on how having a 'single source of truth' enables companies to drive procurement's value and sustain savings across their entire organization. Click here to register to watch the webinar.
When companies merge or come together through acquisition, optimizing procurement synergies can be one of the most important strategic levers for driving rapid and long-term EBITDA improvement. Spend analysis becomes essential in taking the first steps toward making assets work together.
After experiencing tremendous footprint growth, Heartland Dental was challenged with a lack of spend visibility and needed a way to quickly understand the spend profile for each of its supported offices. Heartland Dental knew they needed to implement a spend analysis solution that could consolidate and normalize spend data from multiple financial systems so they could better size up their potential savings and find the commonality of suppliers across their entire footprint.
To learn more about how Heartland Dental utilized spend analysis to uncover sourcing opportunities across dozens of categories, click here to view the case study webinar. To learn more about how SpendHQ can help solve your organization's spend challenges, click here to receive a custom demo.
About SpendHQ
SpendHQ is a spend analysis solution that provides rapid, accurate and detailed visibility into enterprise spend data. This full-service Software-as-a-Service (SaaS) spend analytics solution delivers actionable insight for sourcing and procurement professionals. With SpendHQ as your command center, you give procurement leaders inside your organization the power to impact the bottom line.
Recognized for innovation and industry impact in the procurement space, SpendHQ was named to the 2015 Red Herring Global 100 list and named the Best Big Data Reporting & Analytics Solution and Best Data Visualization Technology Solution at the 2018 SIIA CODiE Awards. With SpendHQ at their fingertips, clients ranging from Fortune 500s to mid-market companies are finally able to see their enterprise spend clearly and drive savings confidently.
As a subsidiary of Insight Sourcing Group, SpendHQ is built by industry leaders with unmatched sourcing knowledge. Inc. magazine has ranked Insight Sourcing Group among the fastest-growing private companies in America every year since 2008. In 2017, Insight Sourcing Group was also named the #1 Boutique Consulting Firm in the U.S. by Vault.com. To learn more about SpendHQ's spend analysis solution and start taking control of enterprise spend data, request a custom spend analytics demo today.
Stay up to date with all things procurement by visiting SpendHQ's procurement blog and by following on LinkedIn.