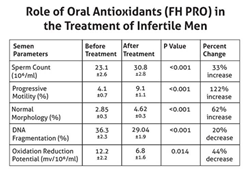 BELLINGHAM, Wash. (PRWEB) February 13, 2019
Infertility is an issue for 1 in 6 couples; in about 50% of these cases the infertility is attributable to the male partner. A startling 2017 study outlining the sharp decline in male sperm count over the last 40 years was featured in articles in the NY Times and GQ, garnering worldwide attention and causing panic that we are in the midst of a severe, perhaps irreversible, male infertility crisis.
A promising clinical study presented at the Foundation of Reproductive Medicine annual conference last November showed that a multi-vitamin and antioxidant-based fertility supplement called FH PRO for Men increased sperm count and motility in reproductive aged men by 33% and 122%, respectively. These numbers are giving fertility specialists and their infertile patients hope that reversing the decades long downward trend in sperm health is possible. Until now, little prescriptive guidance has existed to help men improve sperm quality.
In the three-month study,101 men diagnosed with infertility via abnormal semen analysis took FH PRO for Men daily, resulting in statistically significant improvements in all key sperm health parameters. In addition to an increase in sperm count and motility, the study showed a decrease in DNA fragmentation by 20% and an increase in normal morphology of 62%. Researchers also looked at the impact of the antioxidant-based supplement on oxidative stress levels and measured a 44% decrease in oxidation reduction potential, an overall measurement of oxidative stress.
UNDERSTANDING SEMEN ANALYSIS

Sperm count: Semen that has at least 15 million sperm per milliliter is more likely to fertilize an egg, so that's the level of concentration fertility doctors want to see in men hoping to have kids.
Progressive Motility: To get to the egg, sperm have to be able to swim, so movement is another key measure. Men with a higher percentage of motile sperm are more likely to be fertile.
Morphology: The shape of the sperm matters too. They should look just like tadpoles with little oval heads and long tails. A man's chance of conceiving is thought to go up the more normal-shaped sperm he has.
DNA fragmentation: DNA fragmentation results when sperm DNA strands separate or break into pieces. High levels of sperm DNA fragmentation contribute to male infertility.
Oxidation Reduction Potential (ORP): Exposure to oxidative stress can lead to poor sperm health. ORP is an overall measure of oxidative stress that is used to determine semen quality. A high ORP number can indicate high levels of oxidative stress in the semen.
Male fertility and sperm health go hand in hand, which is why declining sperm counts, along with declining sperm motility, morphology and DNA integrity, are cause for alarm. Lifestyle-related factors including a sedentary lifestyle, poor nutrition, obesity, exposure to environmental toxins, smoking and high amounts of stress are all known contributors.
To some fertility specialists, these promising clinical study results are not all that surprising. Dr. Celia Dominguez, MD, FACOG, a reproductive endocrinologist practicing in Hawaii, has been recommending FH PRO for Men for several years. "I find that in our male factor infertility clients, FH PRO for Men has provided excellent results by improving sperm parameters and it's become part of our standard protocol. The new clinical data has been great to see and just confirms what we have experienced firsthand over the past few years," said Dr. Dominguez.
FH PRO for Men is a patented non-prescription dietary supplement that includes ingredients well-studied for their role in supporting male fertility, including L-carnitine, CoQ10, Vitamin E, Lycopene, N-Acetyl-l-Cysteine, and Zinc. FH PRO is manufactured in the United States in a GMP-certified facility and is part of the Fairhaven Health family of fertility supplements, a company that has been the industry leader in this space for more than two decades. For Dr. Dominguez, Fairhaven Health's reputation for producing quality products is key. "I am a huge advocate of complementary and alternative medicines for our reproductive endocrinology and infertility patients. Quality is critical to us in a market where most supplements go unchecked and unregulated," she said.
ABOUT FAIRHAVEN HEALTH
Fairhaven Health is a specialty supplier of natural, physician-designed products that support fertility enhancement, pregnancy and breastfeeding. Fairhaven offers a broad range of products to help couples conceive, providing natural alternatives to more expensive and invasive infertility treatments. The company's clinically validated fertility supplements and ovulation prediction tools are recommended by OBGYNs and fertility specialists, having helped tens of thousands of couples conceive naturally. Once pregnancy is achieved, Fairhaven offers natural, physician-designed prenatal supplements and the award-winning line of Milkies nursing products to help new moms meet their breastfeeding goals. The company's Isolove brand offers made-without-parabens and isotonic biogels designed for alleviating vaginal odor, perineal massage, postpartum recovery, and supplemental intimate lubrication for couples who are trying to conceive naturally.
Learn more at http://www.fairhavenhealth.com.