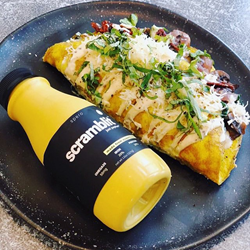 There is a multi-billion dollar industry waiting for the manufacturer who discovers how to create and scale a great-tasting, affordable alternative to animal protein.
SAN JOSE, Calif. (PRWEB) May 31, 2019
It is no secret that more and more Americans are seeking an alternative to animal proteins. In fact, 50% of U.S. Consumers are trying plant-based dairy—whether it's to improve their health or to help reduce the negative impact on animals and the environment. Now, according to Bloomberg News, there is a multi-billion dollar industry waiting for the manufacturer who discovers how to create and scale a great-tasting, affordable alternative to animal protein. Well, that manufacturer is Spero Foods, and on May 23, 2019, Spero Foods took center stage as one of three top finalists at the international Collision technology conference by WebSummit, in Toronto, Canada—placing Spero Foods and it's 27-year-old Founder and CEO, Phaedra Randolph as a clear front-runner in the "multi-billion dollar race" to replace animal dairy with great-tasting, affordable plant-based alternatives.
"It was exhilarating to pitch at Collision," says Phaedra Randolph, Founder and CEO of Spero Foods. "And incredible to have placed in the Top 3. I think this is evidence that people 'get' our approach. Spero Foods has created something that's never been accomplished before. There are millions of people waiting for plant-based dairy that is truly healthy— meaning, rich in natural nutrients and without preservatives, fillers, or highly refined ingredients— and that tastes delicious. And just as importantly, people want an affordable price point," Randolph continues. "Ultimately, people want dairy alternatives that are better for them, not less good for them, like many of the non-dairy products on the market. We make food that's better for you. That's why we exist," Randolph states.
Spero Foods is leading the frontier in the race to replace dairy. Spero has developed multiple patent-pending processes—filed under the world's leading biotechnology firm— and food data science models, to transform a wide variety of ultra-sustainable and nutrient-dense ingredients into plant-based egg, dairy, and dessert products that are unparalleled in taste. As Spero scales, they will be entering into every major dairy and egg category with novel products. Spero's products are priced competitively now, but prices will drop significantly as they scale.
"I truly believe that once more people become aware that there are plant-based alternatives to dairy that are tastier, affordable, more nutritious, and more sustainable, consumers will begin fully integrating these products into their diets. Right now, people just do it part of the time… Spero Foods is truly what people have been waiting for," states Randolph. "I named our company Spero because it means 'hope' in latin. We're building a hopeful future where people don't have to question the integrity of their food and they don't have to pay a premium for it."
Karim Hamdi, Co-Founder of PlantLX believes that Spero Foods is revolutionizing the industry. "To be honest, the Spero goat cheese and the Impossible Burger are the only groundbreaking things I've tasted while [in the U.S.]"
Christie Lagally, Founder and CEO of Seattle Food Tech, notes how realistic Spero Foods cheeses truly are. "Spero Cheeses have a rich flavor & creaminess not found in most cheeses today, dairy or plant-based."
What sets Spero Foods apart is that all of Spero's products are all-natural, clean-label, preservative-free and made from 'superfoods'— guaranteeing every bite is rich in nutrients. Scramblit beats regular eggs twice over, with 10 grams of protein per serving, 2x the Omega-3s, more zinc, iron, and magnesium (1, 5)— also surpassing the egg substitute, JUST Egg, which uses preservatives, canola oil, sugar, and other fillers. Spero Foods' cheeses come in strong with 5 grams of protein per serving— the highest amount of protein in any plant-based cheese— over 90 times the antioxidants of dairy cheese, and dense amounts of essential vitamins and minerals (1, 5).
Not only are Spero's products delicious and healthy, but they are unsurpassed in terms of their environmental sustainability. "Most people don't know that dairy cheese is the second largest contributor to food-caused climate change. It's beef, then cheese, then pork. Our cheese products far exceed the sustainability of nut-based products by emitting less CO2 in their production and by utilizing less water and land. In total, Spero Foods' cheeses produce 95-99% fewer greenhouse gas emissions than dairy cheese. (2,3,4,5) That's groundbreaking," states Spero Foods Founder and CEO, Phaedra Randolph.
Spero Foods checks all the desired boxes in this new food category: Flavor, Affordability, Health and Sustainability. Having successfully proven its concept and far surpassed its initial startup goals—constantly selling out of supply— Spero Foods is currently entering its Seed Round of funding to further develop their innovation platform, increase manufacturing and scale production to bring Spero Foods to grocery retailers nationwide.
ABOUT SPERO FOODS
Founded in 2016, Spero Foods is on a mission to make everyday dairy products into delicious, nutritious, and sustainable foods made from real ingredients. Phaedra Randolph, the founder of Spero Foods, transformed her own health (migraines, IBS, and seizures) and improved her athletic performance (NCAA D1 recruit) by adopting a plant-based diet. Ten years later, Phaedra created Spero Foods ('Spero' means 'hope' in Latin), to help heal others while also healing the world with its environmentally-sustainable and health-conscious business model. A former analyst turned software engineer at Facebook, Inc., Phaedra served as a software engineer at two (later acquired) startups and earned a B.Sci. in Operations Research and Information Engineering and Pre-Medicine from Cornell University, with nutrition and neuroscience research. Phaedra is also the Founder/ former President of Plant-based Life@ Facebook HQ (featured in Forbes), the Co-Founder/President of Cornell Vegan Society, and Director of Harvard's Ivy League Future of Food Conference. Spero Foods has earned the title, Standout Startup of the Winter Fancy Food Show by Food Business News and 50 Women Led Startups Who Are Crushing Tech by Forbes. Backed by the prestigious YCombinator, the same accelerator that incubated Dropbox and AirBnB, Spero Foods is leading a new, nondairy superfood revolution. Spero Foods' line-up of delicious, healthy, sustainable food items are available at http://www.SperoFoods.com.
For interviews, contact Anita S. Lane at AnitaSLane@SenseiCommunications.com or via phone at 313.447.9083.
1. per serving
2. in terms of Greenhouse Gas Emissions (kg CO2 per volume of whole eggs vs Scramblit)
3. in terms of Greenhouse Gas Emissions (kg CO2 and kg CH4 per lb of average dairy vs spero cheese)
4. in terms of kg of carbon dioxide equivalents (CO2e) and methane equivalents (CH4e) per kg of consumed product
5. sperofoods.co/citations