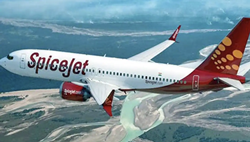 "We are pleased to extend our partnership with SmartKargo for innovative technology supporting highly-efficient air cargo operations; especially important now, as we serve communities with the critical transport of sensitive medicines and Covid-19 vaccines."Mr. Sanjiv Gupta, CEO, Spice Xpress
CAMBRIDGE, Mass. (PRWEB) February 04, 2021
QuantumID Technologies, Inc. today announced that SpiceJet has renewed its contract with SmartKargo to continue the delivery of real-time shipment data and innovative air cargo technology that powers key operations for the carrier's air cargo business arm, Spice Xpress.
Since 2015, SpiceJet has utilized the SmartKargo platform to support and grow its domestic and international Cargo business, including its important Pharma Pro cold-chain services.
Since the pandemic lockdowns of early 2020, SpiceJet and Spice Xpress have together played a critical role, working relentlessly to ensure that India's supply chain remained intact; providing the transportation of vital goods and medical supplies to all corners of India and the world. SpiceJet has operated more than 12,906 cargo flights since the lockdown began and carried around 1,04,800 tones of cargo. Most recently, the airline has partnered with a variety of airports and logistics entitles to safely and efficiently transport Covid-19 vaccines.
Mr. Sanjiv Gupta, CEO of Spice Xpress said: "For the past 5 years, SmartKargo technology has provided Spice Xpress with the advanced digital tools needed to quickly and effectively transform our cargo business. As a result, we have been able to further digitize our processes to support highly efficient air cargo operations, growth and improved experience for our customers. We are very pleased to extend the partnership and we look forward to continuing our growth and service to our communities; especially in the critical transport and delivery of medical supplies, pharmaceuticals and vaccines due to Covid-19."
Spice Xpress has the capability to transport extremely sensitive drugs, vaccines blood samples and medicines in controlled temperatures ranging from -40°c to +25°c. Besides, the airline also offers other benefits such as a network of warehouses equipped with deep freezers to enable change of cool packs and ground vehicles and containers to help transport sensitive cargo. Spice Xpress has the capability of providing door-to-door deliveries to over 12,600 pin codes across India. 
Most recently, as part of its continued efforts, the airline has partnered with a variety of airports and logistics entitles to transport Covid-19 vaccines via its Pharma Pro cold-chain service.
Mr. Gupta added, "The success of the biggest vaccination drive largely depends upon the transport, storage and distribution of vaccines to every part of the world without any major challenges. At SpiceJet, we are ensuring no stones are left unturned in making this drive a remarkable success. Our latest tie-up with Adani Ahmedabad International Airport Limited is another step in that direction to help in the seamless transportation of the Covid-19 vaccine."
Mr. Milind Tavshikar, Chief Executive Officer of QuantumID Technologies and SmartKargo said: "We applaud our friends and colleagues at SpiceJet for their remarkable work in distributing critical medical supplies and temperature-controlled vaccines across India and the world. On behalf of the SmartKargo team, we express our gratitude for your continued support."
"SmartKargo provides airlines with real-time shipment data and tracking, paperless e-AWBs; ease of booking for Cargo agents and customers with single- screen data entries; powerful pricing and rate-making via simplification; real-time capacity management: user-configurable real-time business intelligence and reporting; integrated Cargo Revenue accounting and more.
In addition, SmartKargo provides streamlined access to growth in cargo revenues via its e-commerce engine, which is available as an add-on or stand-alone service that wraps around an airline's existing cargo technology platform.
For more information visit http://www.smartkargo.com
About SmartKargo
SmartKargo technology powers the largest volume of daily air cargo transactions in the world today, and assists airlines looking for forward-looking solutions to run and grow their air cargo business. The SmartKargo Software as a Service (SaaS) platform provides an innovative solution set, created exclusively for the world's airlines. Using real-time data, robust mobile applications and seamless integrations, the SmartKargo solution can be deployed quickly. The end-to-end technology provides ease-of-use and visibility of information to all members in a shipment's logistics chain and opens doors to the rapid revenue growth associated with integrated logistics for e-commerce. The company is headquartered in Cambridge, Massachusetts with key offices located in India, Philippines, Brazil and Canada.
About SpiceJet Ltd and SpiceXpress
SpiceJet Airlines offers safe, on-time and efficient air freight transportation backed by SpiceJet's state-of-the-art infrastructure and the expertise of its dedicated cargo professionals in the Spice Xpress cargo business unit. With a network spanning 54 domestic and 45 international destinations, and a fleet of 17 cargo planes, Spice Xpress is capable of flying over 500 tonnes of cargo per day to a wide list of destinations. The airline has partnered with global leaders in cold chain solutions offering active and passive packaging with dedicated equipment to perform seamless cold chain operations. The cargo team is backed by years of experience, and is highly capable in providing professionally handled cargo and logistics services, with fast international freighter service also available via Delhi.
For more information please contact:
Jen Pemberton
SmartKargo Media Relations
jen@smartkargo.com