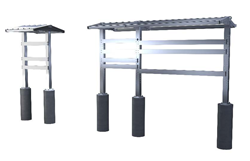 Modular switchracks will help move the industry away from standard welded switchrack structures to a more versatile and modular mount.
HOUSTON (PRWEB) November 09, 2021
Spike Electric is pleased to announce that it has released the newest technology for the energy market -- modular switchracks. Modular Switchracks will help move the industry away from solely using the standard welded switchrack structure and to a more versatile and modular mount for electrical power distribution equipment.
Welded frames do not allow for future expansion and require an entire concrete pad to be poured for the structure. This new modular technology allows for unlimited future expansion and reduces civil concrete foundation costs by more than 80%.
Spike Electric's patented modular electric switchrack technology offers a complete motor control center in one integrated package. These modular switchracks can be used for controlling electrical infrastructure in both industrial and commercial scenarios. The significant advantage is that these are manufactured in factory-controlled settings and speed up the installation process as well as allowing for future expansion without welding.
Spike Electric's Free-Standing Switchrack Assemblies are well suited and can be used in multiple scenarios. These can be used indoors and outdoors, in damp, wet, or corrosive locations, as well as in hazardous areas.
The product range is well suited for industrial and commercial applications. In addition, the prefabricated switchrack range can be customized to meet customers' unique requirements.
Spike Electric has had extensive testing performed on the design and follows specified ISO 9001 standards. The sub-assemblies of the modular switchrack structure are built to uniform quality.
The modular switchrack solutions from Spike Electric result in greater operational efficiencies, reduced downtime, high quality and fast delivery.
Spike Electric is a globally recognized original equipment manufacturer of quality electric gear and control solutions that handle an array of electrical product needs.
Spike Electric's Modular Switchrack range is available from immediate effect for ordering. You may order these through your local electrical distributor or contact Spike Electric directly through their site.