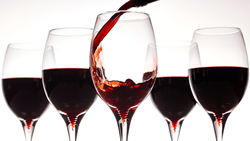 Inspired by the shape of a corkscrew and how it grips a cork, we embarked on a journey to revolutionize the wine drinking experience.
LAKEWOOD, Col. (PRWEB) May 09, 2017
Vacanti Wine Glasses, a startup based in Colorado, launched its newest product for wine enthusiasts worldwide. Spirale is a hand-blown wine glass with an unique, patented design embedded in the stem that captures sediment found in red wine. Engineered around form and function, Spirale catches sediment as it settles so users can enjoy their wine to the last sip without encountering sediment. For the past five years, the Vacanti team has tested their prototypes and refined their design. After gathering feedback from certified sommeliers, wineries, restaurant owners and target consumers from around the world, the Vacanti team has perfected their design and is ready to take Spirale to market.
"My husband and I were enjoying a delicious bottle of red wine until our last few sips were tainted by a bitter flow of sediment," said Margarita Vacanti, founder of Vacanti Wine Glasses. "Inspired by the shape of a corkscrew and how it grips a cork, we embarked on a journey to revolutionize the wine drinking experience."
Wine sediment is a good indicator of aged, fine wine. Winemakers may opt to remove the sediment, which is harmless to consumers, or leave it to enhance the wine's overall taste and texture. Depending on the age of the wine, sediment may build over the years and be more noticeable in some bottles. For those who wish to enjoy their wine without filters and strainers, Spirale offers a way to trap sediment particles in a simple, elegant way.
Spirale's glass bowl, as is typical with red wine glasses, is full and round. At the base of the bowl, and entering into the stem, is the spiral where the sediment catches and remains filtered. The sediment will remained locked in the spiral even when users tilt their glass to sip. The Vacanti team has worked hard to develop the perfect design that not only delivers, but is also aesthetically pleasing. Jeff Baran, Mid-Atlantic District Manager for Rodney Strong Vineyards testified, "It [Spirale] is an elegant glass with a very nice structure and performed exactly as indicated."
The Vacanti team is now ready to distribute Spirale worldwide. To help jumpstart the mass manufacturing process, the team has turned to the Kickstarter community. The Spirale glasses, which are available in a sets of two, four, eight and twelve, are available to backers at a discounted price starting at only $23 per stem. The glasses are expected to deliver this November. For more information on Spirale, visit the campaign at bit.ly/SpiraleKS.
About Vacanti Wine Glasses
Founded by Patrick and Margarita Vacanti in 2012, Vacanti Wine Glasses is a Colorado-based startup with a primary focus on the beverage industry. Their newest product, Spirale, is a hand-blown wine glass designed to capture sediment found in red wines. For more information on Vacanti Wine Glasses, visit http://www.vacanti.com.