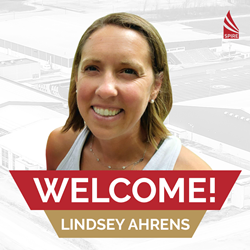 I recognized instantly that SPIRE's approach to education matches mine. The SPIRE way focuses on building young people academically, personally and professionally, while also giving them what they need to succeed in life.
GENEVA, Ohio (PRWEB) November 18, 2020
A former collegiate athlete, Ahrens comes to her position at SPIRE after having worked in the independent school environment for more than 15 years. She spent two years swimming at Purdue University in West Layfayette, Indiana before transferring to John Carroll University in Cleveland to finish her undergraduate degree, earning five All-American titles.
Ahrens' career path to date has included stints as an English teacher, swimming coach, and admissions professional at Andrews-Osborne Academy. She started her position with SPIRE in September.
Ahrens says she's excited to help build SPIRE's reputation as a world class training facility from its earliest stages. "When I had an opportunity to connect with Co-Managing Director Rich Odell and the rest of the staff, I knew right away that I wanted to be a part of SPIRE," she said. "I recognized instantly that SPIRE's approach to education matches mine. The SPIRE way focuses on building young people academically, personally and professionally, while also giving them what they need to succeed in life."
In her previous positions, Ahrens says she frequently spoke to parents who lived in different places around the world about the opportunities available to their children in the United States. Little did she know at the time that learning to develop these virtual relationships with families would help her to connect more fully with parents and possible students via video conferencing during the time of COVID-19. "Developing relationships on virtual platforms is very different than it is when we are able to connect face-to-face in person," she says. "The restrictions imposed by COVID have been difficult and challenging, but I'm grateful that I feel prepared for them because of my previous experience."
"I want people to know that there's room for student athletes of widely varying ability at SPIRE," says Ahrens. "Our coaches deliver customized technical instruction, technique development and tactical coaching to every student athlete, regardless of ability. As long as our student athletes have passion and demonstrate commitment, SPIRE will help them become physically stronger, faster, and more agile."
Just as importantly, says Ahrens, the SPIRE team focuses on helping student athletes to become well-educated, confident, motivated, and self-disciplined human beings.
"Again, that's the "whole person" philosophy that I really believe in," she says. "I am really excited to help spread that message to our prospective student athletes and their families so that they can come together in this incomparable educational and athletic facility to begin to realize their peak potential individually while doing great things together."
About SPIRE
SPIRE Institute & Academy (IA) (http://www.spireinstitute.org) is one of the largest indoor, professional training and competition complexes in the world. With more than 750,000 sq. ft. under roof and a campus of 175 acres, SPIRE has the unique capacity to simultaneously host a world-renowned sports academy, clubs, leagues, tournaments and championship events, no matter the weather or the season.
SPIRE Academy and its expert coaches, teachers and performance trainers offer residential camp and academy training programs in basketball, track and field, swimming and now in esports and drone/robotic/AI/emerging tech as well. The comprehensive mix of professional level training integrates athletics and academics, skills training and performance training and personal and career development in ways that has never been done before. High school and post grad athletes on one campus, pursuing specialty passions ranging from basketball to e-gaming, swimming to drone racing, pole vaulting or sprinting to future opportunities like culinary or cultural arts...is a career development experience that you just won't find anywhere else in the world today.
SPIRE Institute, in partnership with Cleveland Clinic, is the epitome of a 'real world lab' for professional, technical and health and wellness research. Like never before, student trainees and elite athletes will have the chance to train, study and be studied side-by-side with weekend warriors, wounded Veterans, Paralympians, Olympians and Special Olympians, as well as juniors, collegians and adults of all ages and ability levels. SPIRE is truly a melting pot of all things relative to long-term training and education development, and all of this delivered within a fun, healthy and inspiring environment.
The "SPIRE Way'' focuses on the development of the whole self – building strong minds, strong bodies and strong character.