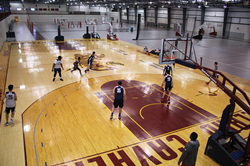 I think the fact that all five (players) signed with Division 1 programs is a combination of their innate ability and SPIRE's approach to the college search process.
GENEVA, Ohio (PRWEB) May 22, 2020
SPIRE Academy's post-graduate basketball program is pleased to announce that five of its student-athletes have signed with Division 1 colleges and universities.
Raheim Moss, SPIRE Academy's post grad basketball team's leading scorer, has signed with the University of Toledo Rockets of the Mid-American conference. The 6'4" guard from Springfield, OH averaged 18.2 points per game, and was also the SPIRE post grad team's best defensive player, according to SPIRE PG Head Basketball Coach Gravelle Craig. "Raheim played both football and basketball in high school," says Coach Craig, "and he had several D-1 football scholarship offers. Eventually, however, he decided to pursue basketball as his future sport."
SPIRE'S third leading scorer, 6' 10" forward Aundre Polk from Detroit, MI, will play for Central Michigan University this fall. A team leader in rebounding and blocked shots, Polk was deemed SPIRE post grad basketball's most improved player last season. "Aundre can end up being a big-time recruit for CMU if he keeps progressing at the rate he progressed at SPIRE this last season," said Coach Craig.
Chad Baker, a 6'7" guard from the Dominican Republic has committed to play for Duquesne University of the NCAA's Atlantic 10 Conference. Baker was SPIRE post grad basketball team's second leading scorer. He also led the team in assists. "Chad's one of our most versatile players," said Coach Craig. "He plays point guard, shooting guard and small forward. He should be able to step in and contribute right away at Duquesne next season."
With an average of 10 points per game, 6'6" forward Phil Joseph from Brooklyn, NY has signed to play with Oakland University's Golden Grizzlies this fall. Joseph was the SPIRE post grad basketball team's fourth leading scorer and top three-point shooter last season. "Phil creates match-up problems at the forward spot because he can really shoot," says Coach Craig, "but he can also take you off the dribble. I'm looking forward to watching his continued development at Oakland."
Before signing with the University of Dayton Flyers in January, Zim Nwokeji was SPIRE post grad basketball's leading scorer at the start of last season with 18.8 points per game. According to Coach Craig, this was a great opportunity for the 6' 7" forward from Tallahassee, FL to join the #3 team in the country at that time. "Zim was able to practice and travel with the team and get acclimated to the school and its academic rigor," said Coach Craig. "Next season, Zim will have the opportunity to step in and help Dayton maintain its incredible climb as a top ten nationally ranked program."
"Every one of these post grad athletes is naturally gifted and hardworking," says Coach Craig. "I think the fact that all five signed with Division 1 programs is a combination of their innate ability and SPIRE's approach to the college search process. We look to identify college options for our post grad athletes where they will have the opportunity to be successful academically, athletically, and socially."
"Our college placement process is also integral to the success of our student-athletes coming out of SPIRE's high school basketball program," added Head High School Basketball Coach Dawud Abdur-Rahkman. "We meet with them one-on-one to guide them through a very thorough planning process. That process involves researching colleges that we think will be the best fit, developing an appropriate timeline for decision-making, registering and becoming qualified through the NCAA Eligibility Center, applying to their schools of choice, helping them compare financial aid packages and scholarships, and guiding them through the college admissions process."
"Becoming stronger and faster is only part of the training we do at the PG level," says Coach Craig. "We work on improving stamina, preventing injuries, and building mental toughness. We're proud to say that 100% of our graduating seniors and postgraduates have had options upon graduation to launch their collegiate careers."
About SPIRE Post Grad Basketball
SPIRE Academy is an international high school and post graduate program focused on developing and preparing student-athletes to reach their maximum potential. SPIRE's post graduate program allows student-athletes who have completed high school to take courses through Kent State University at Ashtabula, retake high school courses to improve their grade point averages, and/or enroll in SAT/ACT prep courses to improve test scores necessary for college entry, without compromising their NCAA eligibility.