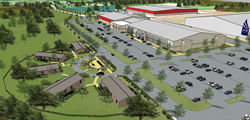 Our new student housing in SPIRE Village helps create an environment where individuals can not only excel academically but master life's necessary personal skills so they stand out in their sport or passion and in life in general.
GENEVA, Ohio (PRWEB) August 05, 2020
When Baltimore-based investment firm AXXELLA, LLC, a subsidiary of Blue Ocean, acquired SPIRE Institute and Academy in 2019, its strategic plan included expanding the mega-facility near Lake Erie in five major areas: athletics, academics, events, recreation and facilities. Construction of SPIRE Village is well underway, and the owners are continuing with their plans by upgrading resident housing.
SPIRE Village consists of five 2,300 sq. ft. homes built specifically for SPIRE Academy student athletes, with each home having six bedrooms. Each bedroom accommodates two twin beds, a nightstand, wardrobe, two study tables with chairs and a shared six-drawer chest. The student lounge has a big screen TV, a couch, chairs and a dining room table with chairs for house meetings. There are three student bathrooms and a washer and dryer. Picnic tables and some outdoor sports equipment will be placed in between the houses.
Well insulated, outfitted with sprinkler systems and equipped with LED lighting, each house is heated by natural gas and is fully air conditioned. Each student room has its own unique entry key. All buildings are handicapped accessible.
A house parent who is fully trained in safety and COVID-19 precautions will occupy a one-bedroom apartment in each building, complete with kitchen, dining/living area and full bath. Residents will attend weekly meetings designed around personal growth topics jointly hosted by the house parent and a student who lives in the house. In addition to intra-Village competitions for fun and prizes, there will be activities planned where all houses work together on internal and external community projects.
"Everything we do at SPIRE is meant to help our students discover their power and their potential," said SPIRE Co-managing Director Rich Odell. "The interdisciplinary and experiential options we offer to the student athletes who live on SPIRE's campus provide multiple ways to help them develop powerful, creative insights—about themselves and others. Our new student housing in SPIRE Village helps create an environment where individuals can not only excel academically but master life's necessary personal skills so they stand out in their sport or passion and in life in general."