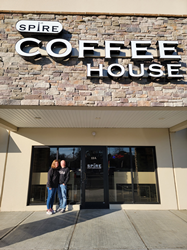 "For someone who didn't know anything about coffee shops, I'm confident I can call anyone at Crimson Cup, and they'll be able to help me with whatever I need ... It has more of partnership feel than a franchise." - Bob Opitz, Owner, Spire Coffeehouse
Toms River, New Jersey (PRWEB) January 21, 2023
Something new is brewing in Toms River! Area resident Bob Opitz is thrilled to announce the opening of Spire Coffeehouse at 1922 Hooper Avenue.
He developed the coastal-inspired coffee and tea shop through the 7 Steps to Success coffee shop startup program of award-winning coffee roaster Crimson Cup Coffee & Tea.
A play on "inspire," the shop's name also alludes to the New Jersey Shore lighthouses and his goal of reaching the pinnacle of success and community service.
"We offer a wide variety of hot and iced drinks, and provide a selection of baked goods and snacks," Opitz said. "So, whether you're stopping for your morning coffee or an afternoon snack, we've got you covered!"
Roasted by Crimson Cup, the coffee and espresso-based beverages have received an enthusiastic welcome from Toms River coffee lovers.
"The best hot chocolate ever," wrote one Google reviewer. "Cappuccino was awesome. So friendly and nice. Highly recommend!!"
Spire Coffeehouse offers Opitz a second career. After 30 years in the insurance industry, he yearned to follow in his father's entrepreneurial footsteps and open his own business.
"My father ran a computer consulting business and a sporting goods franchise, so I'm an entrepreneur by blood," he said. "A coffeehouse seemed like a good way to have fun and enjoy social interaction while giving back to the Toms River community."
With no prior coffee industry experience, he searched for information on how to open a coffee shop.
"I knew I didn't want to go the franchise, route," he said. "I wanted to be independent. I didn't want to have to put a ton of money down up front and then be locked into doing whatever they told me to do."
The search led to Crimson Cup, which offers a coffee shop franchise alternative called the 7 Steps to Success.
Based on the book, Seven Steps to Success: A Common-sense Guide to Succeed in Specialty Coffee, by Crimson Cup Founder and President Greg Ubert, the program teaches entrepreneurs with little or no coffee experience how to run a profitable coffee business.
"The book was great, concise, to the point, without being preachy," Opitz said.
After he read the book, Crimson Cup's 7 Steps coffee shop startup consulting team guided him at every step, from writing a strong coffee shop business plan to designing and laying the coffee shop, choosing coffee shop equipment, hiring and training staff, and much more.
"To this point, I think the most valuable of the 7 steps has been in the location and layout," Opitz said. "That really helped me figure out where I wanted to have my shop. Knowing what to look for in a site was critical."
In December, 7 Steps Project Manager and Trainer Steve Bayless spent the week leading up to the opening of Spire Coffeehouse training Opitz and the Spire Coffeehouse baristas in all aspects of drink preparation and coffee shop operation. He stayed on site through opening day to ensure everything went well.
A Customer Growth Rep continues to work with Opitz and will return for Grand Opening Celebrations in February.
"It's amazing just how open and helpful everyone has been," he said. "For someone who didn't know anything about coffee shops, I'm confident I can call anyone at Crimson Cup, and they'll be able to help me with whatever I need."
"I think that ties to Crimson Cup's business model. They believe that they succeed when I succeed. It has more of partnership feel than a franchise, where I would have to cut a check every month regardless of how my shop is doing."
"It's a more collaborative relationship, and I appreciate that."
Asked to give advice to other aspiring coffee shop owners, he said, "Be prepared for it to take longer and cost more than you initially thought."
"Definitely do your homework on location and design. The biggest challenge for me was the construction process."
Opitz invites everyone in Toms River, Ocean County and the Jersey Shore to visit Spire Coffeehouse.
"Our shop offers a comfortable, neighborhood feel for hanging out with friends, doing some work or studying, and enjoying community events while enjoying the highest quality coffee, tea and snacks," he said.
"We pride ourselves on serving award-winning coffee and tea products, and we work with local dairies and bakeries to source the freshest and tastiest additions to your coffee."
Spire Coffeehouse is open seven days a week at 1922 Hooper Avenue. Follow the shop's Facebook page for updates about the menu, hours and upcoming events, including Grand Opening Celebrations planned for February 2023.
About Crimson Cup Coffee & Tea
Founded in 1991, Crimson Cup is at the forefront of the coffee industry. Its attentive roasting, startup support and global partnerships are consciously designed for the greater good of communities around the world. Among other national recognitions, the company has earned 2020 and 2017 Good Food Awards, the 2019 Golden Bean Champion for Small Franchise/Chain Roaster and Roast magazine's 2016 Macro Roaster of the Year.
Crimson Cup travels the world searching for the perfect cup – driven by meaningful relationships, honesty and a shared vision for the future. Its Friend2Farmer initiatives foster respect and decency through mutually beneficial collaboration across local and global communities.
Through its 7 Steps to Success coffee shop startup program, the company teaches entrepreneurs how to open and run independent coffee houses in their local communities. By developing a coffee shop business plan, entrepreneurs gain insight into coffee shop startup costs.
Crimson Cup coffee is available through over 350 independent coffee houses, grocers, college and universities, restaurants and food service operations across 30 states, Guam and Bangladesh. The company also owns several Crimson Cup Coffee Shops and a new CRIMSON retail flagship store. To learn more, visit crimsoncup.com, or follow the company on Facebook and Instagram.