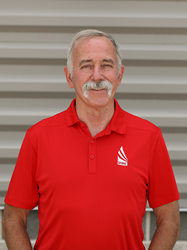 It is an honor and privilege to have worked with Charlie all of these years. His kindness, professionalism, intelligence, experience and depth of knowledge are second to none.
GENEVA, Ohio (PRWEB) May 25, 2021
Internationally-known track and field legend Charlie Powell is retiring from SPIRE after his nine years as the athletic academy's Director of Track and Field, effective June 1, 2021.
Prior to joining SPIRE in 2011, Charlie had an extensive career both on the field at Trumbull High School, Virginia Tech and Western Kentucky University before moving on to coaching at Western Kentucky University, the University of Delaware and the University of Pennsylvania.
Charlie has trained many successful track and field athletes, including two NCAA individual Champions, 60 individual NCAA Championship Qualifiers, numerous Olympians, 18 NCAA All-Americans, one Pan Am Champion, over 100 individual Conference Champions and another 100 All-East Athletes, two NCAA Post-Graduate Scholarship recipients, Canadian and Australian National Champions, two Thouron Scholars and over 50 Academic All-Ivy Team Recipients. His athletes set 21 indoor school records, 22 outdoor school records and 15 conference records.
In 2001, Powell was selected as the Mondo Mid-Atlantic Coach of the Year by his peers from the United States Track Coaches Association and served on the Olympic Development Committee from 1998 to 2010.
At SPIRE, Charlie will be remembered for his unique approach to training future athletes at what he considers one of the best track and field complexes in the world. Charlie's coaching and training regimens were a blend of technical training, alongside intensive athletic development, not just physically, but mentally as well. Charlie will be missed by his peers and his students alike.
"It is an honor and privilege to have worked with Charlie all of these years. His kindness, professionalism, intelligence, experience and depth of knowledge are second to none," explains Jeff Orloff, SPIRE's Chief Operating Officer. "Charlie is known throughout the track and field world as the gold standard, and SPIRE has been lucky to have such a wonderful human being and master of his craft on our team for all these years. SPIRE would not be where it is today without Charlie's contributions."
Tim Mack, SPIRE's Director of Track and Field Development, agrees with Jeff, adding, "Having worked with Charlie and learned from him for over a year, it is without question that he will be extremely missed by many. Charlie has contributed so much to the world of track and field in the USA. He has developed thousands of relationships, trained so many athletes and changed the direction of many peoples' lives and the direction of many track and field programs. I am thankful to have had the chance to work with Charlie, but I am also thankful to look up to him as a mentor."
Charlie is looking forward to the next stage in his life but will miss working with SPIRE students. "I really enjoyed extending my time working with young student athletes within track and field," he said.
Charlie Powell will continue his association with SPIRE as its newest Director Emeritus, continuing to provide valuable and strategic guidance in an advisory role. During retirement, Charlie plans to enjoy his free time with his family.
About SPIRE
SPIRE Institute & Academy is a comprehensive academic, athletic, personal skills and career development experience located within a world class event and wellness complex. Constructed on nearly 500 acres with more than 750,000 sq. ft. under roof, SPIRE (http://www.spireinstitute.org) encompasses four divisions: SPIRE Academy, an accredited college preparatory international boarding school and multi-sport/specialty training and development academy for 9-12 graders and a post-grad program; SPIRE Institute, the research and development arm studying performance improvement across multiple disciplines; SPIRE Events, a facility and team that hosts local, national and international tournaments and events with the NCAA, the Big East, Big Ten and Atlantic 10 conferences, Olympic trials and world championship qualifiers; and SPIRE Fit, a community membership-based fitness, swim and health center open to the public. Sports currently featured on campus include swimming, track and field, basketball, esports, drone racing, volleyball and soccer.