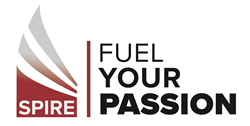 Together, the new brand and web experience will deliver "The SPIRE Way" to the world and invite more individuals to achieve their peak potential.
GENEVA, Ohio (PRWEB) May 20, 2020
SPIRE IA (Institute & Academy), a premier co-ed training facility near Lake Erie, is pleased to announce the launch of a new logo, website and brand campaign that reflects its mission to revolutionize the way individuals achieve their peak potential in life.
"In today's sports world, brands and logos are changing almost as rapidly as bandwagon fans, but here at SPIRE, this change is about more than colors and new uniforms." stated SPIRE Chief Marketing Officer Laura Lawrence. "We are revolutionizing the way individuals achieve their peak potential in life."
"Why do we focus on peak potential?" asked Lawrence, "It's the archetypal meaning of who we are on the inside and what we represent on the outside. A peak represents the highest point or maximum reach of an object or individual's effort, and a spire is the foundational structure for reaching that peak."
According to SPIRE Co-Managing Director Rich Odell, the SPIRE rebrand represents an organization that launches people, ages 9-99, academically, personally and professionally on life's journey with the fuel to sustain their acceleration and consistently achieve peak performance.
"The SPIRE Way is an experience unlike any other," said Odell. "It is this methodology that acts as the foundation for every individual's journey. It is the common thread that weaves together our four divisions, SPIRE Academy, SPIRE Institute, SPIRE Fit and SPIRE Events. That is why it's no mistake that our name represents the base and foundation of our new logo."
However, there is more to this change than providing a solid foundation, said Lawrence. "'The SPIRE Way' prepares individuals for future phases of life," she said. "The logo's breakaway upward trajectory represents an individual's future and the continuance of the base color on the breakaways represents how the "The SPIRE Way" is there to guide them up the spire to their peak."
"As part of this change, we wanted to provide individuals with a way to easily become part of the SPIRE team-- whether it be as a student athlete, camper, trainee or recreational athlete," said Lawrence. "So, we've revamped the SPIRE website to deliver "The SPIRE Way" in a way that connects our local, national and international audiences. Users will experience the new brand in the design; they will immediately realize the legitimacy that SPIRE has become known for and will be able to easily navigate through each of SPIRE's divisions to find relevant and pertinent information. Phase II of the website will be delivered in July and will include additional detail, information and functionality."
"Together, the new brand and web experience will deliver "The SPIRE Way" to the world and invite more individuals to achieve their peak potential."
About SPIRE
SPIRE Institute & Academy (IA) (http://www.spireinstitute.org) is one of the largest indoor, professional training and competition complexes in the world. With more than 750,000 sq. ft. under roof and a campus of 175 acres, SPIRE has the unique capacity to simultaneously host a world-renowned sports academy, clubs, leagues, tournaments and championship events, no matter the weather or the season.
SPIRE Academy and its expert coaches, teachers and performance trainers offer residential camp and academy training programs in basketball, track and field, swimming and now in esports and drone/robotic/AI/emerging tech as well. The comprehensive mix of professional level training integrates athletics and academics, skills training and performance training and personal and career development in ways that has never been done before. High school and post grad athletes on one campus, pursuing specialty passions ranging from basketball to e-gaming, swimming to drone racing, pole vaulting or sprinting to future opportunities like culinary or cultural arts…is a career development experience that you just won't find anywhere else in the world today.
SPIRE Institute is the epitome of a 'real world lab' for professional, technical and health and wellness research. Like never before, student trainees and elite athletes will have the chance to train, study and be studied side-by-side with weekend warriors, wounded Veterans, Paralympians, Olympians and Special Olympians, as well as juniors, collegians and adults of all ages and ability levels. SPIRE is truly a melting pot of all things relative to long-term training and education development, and all of this delivered within a fun, healthy and inspiring environment. The "SPIRE Way'' focuses on the development of the whole self – building strong minds, strong bodies and strong character.