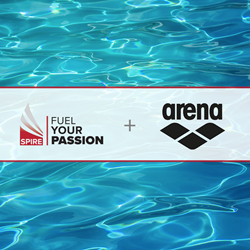 arena is very excited to partner with one of the premier training academies and leaders in training education. We look forward to partnering with Spire IA and support athletes in training to be the best version of themselves.
GENEVA, Ohio (PRWEB) October 19, 2020
arena, one of the most comprehensive technical swim brands in the world, has become the exclusive product provider to the aquatics program at SPIRE IA (Institute and Academy), the premier multi-sport training, education and competition complex located in Northeast Ohio.
SPIRE is an official FINA training center, one of the only ones in North America. Under the direction of Aquatics Director and Head Coach Thad Schultz, a former national champion and highly respected developer of swimming talent, SPIRE offers day/boarding academy training programs for high school and postgraduate students. SPIRE runs an annual calendar of camp, club and clinic programs, and is well-known for hosting prestigious meets with the Big East, Atlantic 10, MAC Conference, NCAA Div II, US Masters and more.
The arena brand, born in 1973, was created by sports visionary Horst Dassler, son of the adidas founder and President, Adi Dassler. The international leader in elite swimwear research, innovation, and development has introduced numerous fabrics and technologies that have revolutionized the aquatics world, including their revolutionary Carbon Series that integrates actual carbon fiber into race suits to deliver maximum compression and hydrodynamics. Iconic designs like the Flyback, AquaRacer, X-Flat, and later the POWERSKIN Series, redefined elite swimming equipment, and have positioned arena as the brand of choice for Olympic Champions and world-record holders around the globe including Adam Peaty, Sarah Sjostrom, Katinka Hosszu as well as the world's best swimming federations including USA Swimming and Swimming Australia.
"arena is a world-class company with a great swimming heritage," said SPIRE Aquatics Director/Head Swimming Coach Thad Schultz. "The fact that they've fully embraced where SPIRE is going in terms of building our year-round Academy, camps, clubs, clinics and event business is very gratifying. Our staff and students love the arena gear, and we're really enjoying the process of working through their whole product line. On behalf of everyone at SPIRE Aquatics, we are very proud to have arena as a Sponsor Partner."
"arena is very excited to partner with one of the premier training academies and leaders in training education." said Mark Pinger, General Manager of arena USA. "We look forward to partnering with Spire IA and support athletes in training to be the best version of themselves."
About SPIRE
SPIRE Institute & Academy (IA) (http://www.spireinstitute.org) is one of the largest indoor, professional training and competition complexes in the world. With more than 750,000 sq. ft. under roof and a campus of 175 acres, SPIRE has the unique capacity to simultaneously host a world-renowned sports academy, clubs, leagues, tournaments and championship events, no matter the weather or the season.
SPIRE Academy and its expert coaches, teachers and performance trainers offer residential camp and academy training programs in basketball, track and field, swimming and now in esports and drone/robotic/AI/emerging tech as well. The comprehensive mix of professional level training integrates athletics and academics, skills training and performance training and personal and career development in ways that has never been done before. High school and post grad athletes on one campus, pursuing specialty passions ranging from basketball to e-gaming, swimming to drone racing, pole vaulting or sprinting to future opportunities like culinary or cultural arts...is a career development experience that you just won't find anywhere else in the world today.
SPIRE Institute, in partnership with Cleveland Clinic, is the epitome of a 'real world lab' for professional, technical and health and wellness research. Like never before, student trainees and elite athletes will have the chance to train, study and be studied side-by-side with weekend warriors, wounded Veterans, Paralympians, Olympians and Special Olympians, as well as juniors, collegians and adults of all ages and ability levels. SPIRE is truly a melting pot of all things relative to long-term training and education development, and all of this delivered within a fun, healthy and inspiring environment.
The "SPIRE Way'' focuses on the development of the whole self – building strong minds, strong bodies and strong character.
About arena
Founded in 1973 and now celebrating its 47th anniversary, arena is a manufacturer and innovation driver for industry- leading products for competitive, fitness, and recreational swimmers worldwide, and is universally recognized as one of the elite brands of high-quality swimwear and technical equipment.
With a presence in 116 countries around the globe, arena's ties to the world of aquatic sports, and swimming in particular, are reinforced through extensive sports marketing partnerships at all levels of sport including governing bodies, national federations, athletes and clubs.
In the Rio Olympics in 2016, arena was on deck as the official outfitter of USA Swimming and The US Olympic Team. The swimmers put on a historic show with one of the most dominating performances in history. Utilizing arena's industry-leading Carbon Series technology, athletes wearing arena combined to secure 33 total medals and 4 of 6 world records broken in the 2016 Olympic Games.
arena was proud to announce the launch of a comprehensive Powerskin range of carbon racing suits for 2020 to satisfy the diverse needs of all swimmers. Introducing two brand new suits – the Powerskin Carbon Glide and Core FX – the range also includes the Carbon Air2 and the world's first 2-piece technical race suit, the Carbon Duo, which had successful releases earlier in 2019, thus giving competitive swimmers four options, each featuring different attributes and benefits.