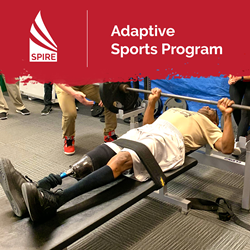 The need for adaptive sports programming in this area is significant, and SPIRE has made a commitment to provide a program that our veterans are motivated to attend.
GENEVA, Ohio (PRWEB) October 23, 2020
SPIRE Institute has received a grant from the Veterans Administration to support its Veterans Sports and Fitness Training Program. According to Keith Webb, Director of SPIRE FIT, the division of SPIRE which encompasses all local and regional play and programming, the program has been offered since 2010 without funding or government support. The $36,900 grant, says Webb, will be used to purchase special adaptive training equipment including competition bikes.
SPIRE's Veterans Sports and Fitness Training program encompasses general fitness and sport-specific training for both wheelchair and ambulatory competition, nutrition, camaraderie, and support. Program participants participate free of charge, and include men and women with single and bilateral below-knee amputations, visual impairments, traumatic brain injury, diabetes, stroke, spinal cord injury, chronic obstructive pulmonary disease, and post-traumatic stress disorder.
According to Patty Whitecotton who works in Physical and Medical Rehabilitation Services at the Northeast Ohio VA, SPIRE has gone above and beyond to offer a top-notch program for area veterans. "The need for adaptive sports programming in this area is significant, and SPIRE has made a commitment to provide a program that our veterans are motivated to attend. SPIRE continues to expand and better equip the program, and I commend them for that. Our veterans are extremely grateful for the opportunity to work out at SPIRE, and for all the organization has made available to them."
After an introductory phase, participants move into competitive training in powerlifting, track and field, swimming, recumbent cycling, triathlon, and more. Many in SPIRE's program work out not only for overall health and wellness, but also to train for high-profile adaptive sports competitions like the Valor Games, Buckeye Games, Golden Age Games, and the National Veterans Wheelchair Games.
Bill Searles, an 8-year veteran of the program, says that training for the National Wheelchair Games is not only great for his physical strength and stamina, it also helps with his mental wellbeing. "Every year, I make a commitment to go all out to train for the National Games," he said. "Even when the VA had to stop bus transportation for us due to the pandemic, I didn't quit. I just started driving my own car. It's about a 45-minute drive each way, but it's worth it."
Searles says he has a prostheses, but he uses a wheelchair to compete in the 100 and 200 meter sprints, discus, javelin, and shot put events, "It feels good to decide to do something and then just keep at it, no matter what. I get a lot back from what I put into the program, but that's one of the big benefits right there."
Six-year program veteran Mark Perkins shares Searles' feelings about the program's mental benefits. Perkins, whose leg was amputated in 2014 learned about the SPIRE program from his contact at the Louis Stokes VA Medical Center in Cleveland a few months after his surgery. Wanting to keep fit and active despite his new challenges, Perkins toured SPIRE's Veterans Sports and Fitness Training Program and immediately liked what he saw.
"That was six years ago, so the program was a lot smaller then," he explains. "It's really grown over the years, because all of us who work out there tell two friends, and they tell two friends, and so on and so on… It's a top-quality program, but more importantly, it's run by outstanding people. This program represents the big commitment that SPIRE has made to supporting veterans like me who are living with disabilities in northeastern Ohio."
Due to the number of participating veterans and their different levels of mobility and endurance, the program's "boots on the ground" team included several highly qualified coaches and exercise physiologists. Keith Webb, Director of SPIRE FIT, leads an impressive group of coaches and others who work individually and in small groups with the chair and ambulatory athletes.
SPIRE also offers discounted memberships for current and veteran members of the US Armed Forces, and free access to SPIRE Fitness and Aquatics in order to encourage continued physical activity outside of the weekly workouts.
Veterans who participate in the program focus on proper technique, program design, and cardiovascular training SPIRE's fitness center. Veterans also participate in two types of group exercise classes designed to promote fitness for life, ending the day's training by eating a healthy, post-workout meal together. Webb says veterans currently enrolled have increased their physical and mental strength, lost weight, gained confidence, and made new friends.
"SPIRE Institute was founded to unlock the full potential of the human spirit through athletics, academics and service," said Webb. "SPIRE respects and honors the principles that built our nation and is committed to offering those who have served our country a program that honors and supports their minds, bodies, and spirits."
About SPIRE
SPIRE Institute & Academy (IA) (http://www.spireinstitute.org) is one of the largest indoor, professional training and competition complexes in the world. With more than 750,000 sq. ft. under roof and a campus of 175 acres, SPIRE has the unique capacity to simultaneously host a world-renowned sports academy, clubs, leagues, tournaments and championship events, no matter the weather or the season.
SPIRE Academy and its expert coaches, teachers and performance trainers offer residential camp and academy training programs in basketball, track and field, swimming and now in esports and drone/robotic/AI/emerging tech as well. The comprehensive mix of professional level training integrates athletics and academics, skills training and performance training and personal and career development in ways that has never been done before. High school and post grad athletes on one campus, pursuing specialty passions ranging from basketball to e-gaming, swimming to drone racing, pole vaulting or sprinting to future opportunities like culinary or cultural arts...is a career development experience that you just won't find anywhere else in the world today.
SPIRE Institute, in partnership with Cleveland Clinic, is the epitome of a 'real world lab' for professional, technical and health and wellness research. Like never before, student trainees and elite athletes will have the chance to train, study and be studied side-by-side with weekend warriors, wounded Veterans, Paralympians, Olympians and Special Olympians, as well as juniors, collegians and adults of all ages and ability levels. SPIRE is truly a melting pot of all things relative to long-term training and education development, and all of this delivered within a fun, healthy and inspiring environment.
The "SPIRE Way'' focuses on the development of the whole self – building strong minds, strong bodies and strong character.
About the United States Department of Veterans Affairs (VA)
The United States Department of Veterans Affairs (VA) is a federal Cabinet-level agency that provides near-comprehensive healthcare services to eligible military veterans at VA medical centers and outpatient clinics located throughout the country; several non-healthcare benefits including disability compensation, vocational rehabilitation, education assistance, home loans, and life insurance; and provides burial and memorial benefits to eligible veterans and family members at 135 national cemeteries.