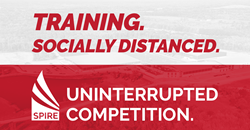 "SPIRE's campus size and location, as well as our decision to maintain a smaller student population, make it possible for us to execute physically-distanced programming in a way none of our competitors currently can"
GENEVA, Ohio (PRWEB) July 27, 2020
SPIRE IA (Institute and Academy) opened in June in strict compliance with recommendations from all public health guidelines recommended to prevent the spread of coronavirus and keep students, campers and employees as safe as possible.
"SPIRE's campus size and location, as well as our decision to maintain a smaller student population, make it possible for us to execute physically-distanced programming in a way none of our competitors currently can," said SPIRE Chief of Operations Jeff Orloff. "These factors make SPIRE the perfect 'bubble' for athletes to keep training and competing without interruption."
To ensure that its student athletes' safety, health, training regimen and performance stay strong and consistent, SPIRE is already adapting, prioritizing and adjusting for any changes the future may hold. Coaches are prepared to use a combination of streaming technologies and videoconferencing to develop skilled players who can keep competing against other athletes across the country and around the world.
Using Meet Mobile® or another team management software platform, SPIRE's Head Coach Thad Schultz can organize time trial events for swimmers in distance/stroke races and Individual Medleys (IM). Times from competitors swimming in any venue are submitted, combined, compared and ranked against swimmers around the world, keeping the level of high-level competition uninterrupted.
In addition to one-on-one virtual training sessions, SPIRE's track and field coaches are connected to athletes via videoconferencing apps and telephone to provide feedback, encouragement, or training tips when needed. SPIRE's track and field coaches will view videos of their athletes training, providing effective feedback from a distance if necessary. Student athletes study track and field videos to hone their skills.
Based on video footage of their players, basketball coaches will create intense virtual training and workout regimens to address any issues with shooting, ball-handling running, passing, rebounding and jumping. Working with SPIRE's performance training staff, coaches will also create and monitor customized virtual workouts for each athlete. Individual mentoring and team meetings will continue to be held regularly via Zoom or other videoconferencing platforms.
SPIRE's Mechatronics Engineering program has already recalibrated its curriculum to take better advantage of robust platforms and kits that lend themselves well to distance-learning. Experience in real life fabrication labs can be replaced with desktop fabrication modules, 3-D printing and at-home work bench projects, aided by packages of hardware, software, and simulators provided by SPIRE. The conversion to a remote program has already been successful and will continue to migrate efficiently and productively to fully online should increased restrictions be brought to bear on in-person learning in the future.
There is already a robust online component to SPIRE esports, but should the program need to migrate to an entirely virtual platform, both individual and collaborative gaming along with classroom-based coursework and training are easily adaptable to fully online models. Business, sports management, game strategy, physical conditioning, mental skills training and other components of SPIRE's esports program are well managed through Discord™, a VoIP application and digital distribution platform that specializes in real-time text, image, video and audio communications between users on a chat channel, and Microsoft® Teams.
SPIRE will continue to keep a close eye on official recommendations from both the CDC and the national governing bodies for each sport to ensure that safe and effective training is taking place at all times.