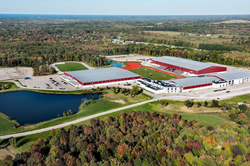 The most important thing for everyone to know and understand is that we are tracking the incidence of coronavirus-related health issues in the Geneva, Ohio area around the clock, and are prepared to do whatever is necessary to minimize the degree to which it affects the SPIRE community
GENEVA, Ohio (PRWEB) May 21, 2020
The COVID-19 outbreak has changed the world we live in almost beyond recognition. Since its onset in March of this year, leadership at SPIRE Institute & Academy (IA) have closely followed the recommendations of the Centers for Disease Control (CDC), the local health department, and Ohio Governor Mike DeWine's office to prevent the spread of coronavirus, and keep students, campers, parents, guests and SPIRE employees as safe as possible.
SPIRE IA is observing strict requirements to slow or eliminate the spread of the contagion among its school community. Employees, students, campers, parents and guests must wear a mask at all times, complete a CDC questionnaire every day, have their hands stamped daily and have their temperatures taken from one to three times a day.
In addition, the following general guidelines have been put in place to preserve the SPIRE community's health and well-being:

Everyone (employees, students, campers, parents, guests, contractors, delivery personnel) must go through our health and safety screening when they enter the complex.
Only SPIRE's main entrance will be open daily to enter and exit campus.
Only people working or training will be allowed in any facility at any time until further notice.
All athletes should plan on arrving at least 20 minutes prior to their program, as given the new procedures, there may be a line for athletes waiting to be screened.
All minor athletes must have a parent accompany them to the screening so they can sign the appropriate paerwork, prior to any minor athlete being admitted into SPIRE
Anyone waiting in a car to drop off or pick up someone will be required to go through our health and safety screening process.
All people in our facilities must be at least 6' apart at all times.
All tables in our dining area will be spaced 6' apart and only one person may sit at each table.
Laminated arrows will be taped to the floor showing the only acceptable path for moving through any space on campus.
Areas in all buildings not in use will be closed off with yellow caution tape or doors locked.
Only enough student desks and chairs will be placed in classrooms to accommodate the number of students enrolled.
Signs will be posted throughout the facilities reminding all of safety responsibilities and requirements to remain welcome on campus.
Anyone coming on campus to train must arrive and depart wearing their workout clothes including footwear and bring their own sanitizer. Showering on site will not be allowed.
Spectators will not be allowed in any building until further notice.
If in a building visiting someone's office, do not cross the blue tape on the floor at the door until invited into the office.
There will be no student field trips until further notice.
There will be staggered arrival and departure times for all athletes to minimize contact with others.
Athlete's personal belongings upon checking in will be placed in a clear, heavy duty plastic bag with their name on it and placed 6' apart in sight of where the athlete will be working out.
An isolation room will be available.
Urgent care and the local hospital are respectively only 5 and 10 minutes away,
We have a partnership with the Cleveland Clinic should services be needed 24/7.
For families whose children will be boarding, there will be daily health updates or more frequently if needed.
As one of the largest indoor, professional training and competition complexes in the world with more than 750,000 sq. ft. under roof, SPIRE IA is acutely aware of the importance of thorough environmental cleaning and disinfection. SPIRE Facilities Cleanliness Protocol includes the following steps:
All campus bathrooms will be sanitized every 4 hours, 7 days a week when buildings are open.
All interior and exterior doors will be sanitized every 4 hours.
Equipment in SPIRE Fit and Performance will be sanitized after every use.
Our Fuel dining and serving area will be sanitized before and after each meal.
Vending machines and any other surfaces touched frequently will be sanitized every 4 hours.
Classroom desks, countertops and other furniture including all technology will be sanitized nightly.
All vehicles will be sanitized before and after any use.
All ventilation units will be checked daily to ensure they are working properly.
"The most important thing for everyone to know and understand is that we are tracking the incidence of coronavirus-related health issues in the Geneva, Ohio area around the clock, and are prepared to do whatever is necessary to minimize the degree to which it affects the SPIRE community," said SPIRE COO Jeff Orloff. "We will continue to adhere to all guidelines from the CDC, and recommendations from Governor DeWine's office and our local health department to ensure we are creating the safest environment possible on the SPIRE campus."
About SPIRE
SPIRE Institute & Academy (IA) (http://www.spireinstitute.org) is one of the largest indoor, professional training and competition complexes in the world. With more than 750,000 sq. ft. under roof and a campus of 175 acres, SPIRE has the unique capacity to simultaneously host a world-renowned sports academy, clubs, leagues, tournaments and championship events, no matter the weather or the season.
SPIRE Academy and its expert coaches, teachers and performance trainers offer residential camp and academy training programs in basketball, track and field, swimming and now in esports and drone/robotic/AI/emerging tech as well. The comprehensive mix of professional level training integrates athletics and academics, skills training and performance training and personal and career development in ways that has never been done before. High school and post grad athletes on one campus, pursuing specialty passions ranging from basketball to e-gaming, swimming to drone racing, pole vaulting or sprinting to future opportunities like culinary or cultural arts…is a career development experience that you just won't find anywhere else in the world today.
SPIRE Institute is the epitome of a 'real world lab' for professional, technical and health and wellness research. Like never before, student trainees and elite athletes will have the chance to train, study and be studied side-by-side with weekend warriors, wounded Veterans, Paralympians, Olympians and Special Olympians, as well as juniors, collegians and adults of all ages and ability levels. SPIRE is truly a melting pot of all things relative to long-term training and education development, and all of this delivered within a fun, healthy and inspiring environment. The "SPIRE Way'' focuses on the development of the whole self – building strong minds, strong bodies and strong character.