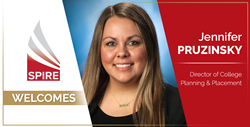 This is a very important time in our students' lives. It's part of my job to help them make the best academic and life choices based on their individual needs going forward.
GENEVA, Ohio (PRWEB) March 04, 2021
SPIRE Institute and Academy is pleased to announce the hiring of Jennifer Pruzinsky as Director of College Planning and Placement.
A graduate of Waynesburg University with a master's degree in Student Affairs in Higher Education from Indiana University of Pennsylvania, Pruzinsky brings to the international boarding school and sports academy many years of college admissions experience. In addition to working at several smaller colleges, she has held positions at the Ohio State University, Youngstown State University and the National Association for College Admission Counseling.
In her new position at SPIRE, Pruzinsky says her main responsibility is advising and mentoring SPIRE's students to help them plan for their futures and realize their goals. "This is a very important time in our students' lives," she says. "It's part of my job to help them make the best academic and life choices based on their individual needs going forward."
For many, says Pruzinsky, that means helping them select a college, prepare for the SATs and ACTs, and manage the college application process. For others, it may mean looking into other options, like the military or vocational schools. "Every student is an individual," she says, "So I've always tried to meet each one where they are and provide them with whatever support they need in the way they will be most responsive to it."
Pruzinsky, who grew up in Northeastern Ohio, says she was attracted to SPIRE immediately for the excellence of its staff and facilities, as well as its potential for growth in the coming years. "For me, SPIRE is the best of both worlds," she says. "It's location here in Northeastern Ohio is ideal, and it has the ability to draw excellent student athletes from all over the world. I'm excited to be a part of that growth."
"Whether a student athlete aspires to an NCAA Division I, II or III school, an NAIA school, or any other college or university, we believe there's a path for everyone to attain their goals," says Pruzinsky. "At SPIRE, we are committed to helping each student athlete find their best possible college fit based on their personal goals, their ability in their specialty passion and their academic proficiency."
About SPIRE
SPIRE (http://www.spireinstitute.org) is one of the largest indoor, professional training and competition complexes in the world. With more than 750,000 sq. ft. under roof and a campus of 175 acres, SPIRE has the unique capacity to simultaneously host a world-renowned sports academy, clubs, leagues, tournaments and championship events, no matter the weather or the season.
SPIRE Academy and its expert coaches, teachers and performance trainers offer residential camp and athletic academy training programs in basketball, track and field, swimming, and now in esports and drone/robotic/AI/emerging tech. The comprehensive mix of professional level training integrates athletics and academics, skills training and performance training and personal and career development in ways that has never been done before. At SPIRE, high school and post graduate athletes are all on one campus. Together, they are pursuing specialty passions ranging from basketball to e-gaming, swimming to drone racing, pole vaulting to future opportunities like culinary or cultural arts. It is an unmatched career development experience that you won't find anywhere else in the world today.
SPIRE Institute, in partnership with Cleveland Clinic, is the epitome of a 'real world lab' for professional, technical and health and wellness research. Like never before, student trainees and elite athletes will have the chance to train, study and be studied side-by-side with weekend warriors, wounded Veterans, Paralympians, Olympians and Special Olympians, as well as juniors , collegians and adults of all ages and ability levels. SPIRE is truly a melting pot of all things relative to long-term training and education development, and all of this delivered within a fun, healthy, and inspiring environment.
The "SPIRE Way" focused on the development of the whole self - building strong minds, strong bodies and strong character.