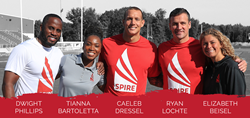 The five ambassadors being introduced today will help our student athletes grow and develop physically and emotionally so they can become the best version of themselves, as athletes and as human beings.
GENEVA, Ohio (PRWEB) September 30, 2020
SPIRE Institute and Academy, a 750,000 square foot, indoor training, education and competition complex near Lake Erie, held a press conference on September 23 to announce the addition of five world-class athletes to help further the growth and development of its student athletes.
SPIRE's ambassadors work with the Academy's student athletes to help them enhance their personal performance, improve athletic ability and gain a competitive advantage, occasionally working with them one on one. In addition to this mentoring, SPIRE Ambassadors work with the Academy's integrated team to help develop innovative, leading-edge programming. They also provide insights to SPIRE's coaches and performance training staff to perfect a program of exceptional coaching, reporting, testing and assessment for every Academy athlete to ensure they are ready to perform at the next level.
According to SPIRE's Co-Managing Director Rich Odell, the complex integrates professional training, education and competition across a wide variety of sports, disciplines and possible career paths. The SPIRE Way, he said, is dedicated to developing and preparing the entire individual to achieve peak performance in school, at work and in life.
"At SPIRE, we create an environment that makes it possible for our student athletes not just to find their passion but to live it," said Odell "The five ambassadors being introduced today will help our student athletes grow and develop physically and emotionally so they can become the best version of themselves, as athletes and as human beings."
Ambassadors introduced at the event:
Tianna Bartoletta, track: Even with little support as a younger athlete, Tianna took four events at the Ohio state championship in two consecutive years, tying her with Jesse Owens, and competed in long-jump and sprinting events at two Olympian Games. "When I think at what I was able to accomplish with minimal encouragement, I can tell young athletes who have the opportunity to train here at SPIRE that the sky is absolutely the limit for them."
Elizabeth Beisel, swimmer: The now-retired, three-time Olympian called SPIRE the future of athletic training. "Now that I'm not competing," she said, "I have more time and energy to give back to this sport and help SPIRE's student athletes grow and realize their potential--as swimmers and as people. I'm 'inspired by SPIRE'."
Caeleb Dressel, swimmer: Olympic and World Record holder Caeleb Dressel is a decorated swimmer and accomplished athlete who looks forward to mentoring SPIRE student athletes, but that's not his main goal. "I want to help these kids not only grow and develop as athletes but also as human beings. There's a bigger picture I want them to see. SPIRE has big dreams about the role they can play on the international athletic stage. Their dreams are big, but they're not far-fetched. I think I can play a role in helping them achieve their goals. I'm all in!"
Ryan Lochte, swimmer: A veteran of four Olympic games with 12 gold medals to his credit, Lochte is currently training for his fifth Olympics. "I've always wanted to be the best athlete and person I could be," he said. "SPIRE has the same philosophy. From the moment I came on campus, I was blown away by the top-notch facilities and their desire to be the very best in the world at what they do. I'm here to help that happen."
Dwight Phillips, track: Olympic medalist and Track and Field Hall of Fame inductee said he was looking forward to impacting the lives of SPIRE's student athletes in his new role as an ambassador. Growing up with few resources and even fewer role models, Phillips says he honored to fill that role for the young men and women he will be mentoring as an ambassador at SPIRE.
All five ambassadors were on-site several days before their public introduction, taking advantage of opportunities to safely interact with Academy students and discuss program development with the SPIRE leadership team. Some utilized the facility to continue with their training.
According to Odell, everything SPIRE's student athletes do is meant to help them discover their power and their responsibility. The addition of the five world-class athletes to the student athlete's growth and development team as ambassadors is just the next enhancement of that core mission. "Our student athletes have unlimited opportunities to discover their potential," said Odell. "Interactions with the five ambassadors will help them aspire to new athletic heights, while our experiential options will help them develop powerful, creative insights."
"Our hope for SPIRE reaches far beyond our campus," said Jonathan Ehrenfeld, SPIRE's Managing Partner. "We see this as an opportunity and a responsibility to positively impact our community every day through youth engagement and economic development. That impact can scale far beyond Geneva, Cleveland, Ohio. It's a chance to bring national and international visibility to the city and to the student athletes training here for their passion. As custodians of this incredible asset, together with our leadership and ambassadors, we are humbled and honored to take SPIRE on that journey."
About SPIRE
SPIRE Institute & Academy (IA) (http://www.spireinstitute.org) is one of the largest indoor, professional training and competition complexes in the world. With more than 750,000 sq. ft. under roof and a campus of 175 acres, SPIRE has the unique capacity to simultaneously host a world-renowned sports academy, clubs, leagues, tournaments and championship events, no matter the weather or the season.
SPIRE Academy and its expert coaches, teachers and performance trainers offer residential camp and academy training programs in basketball, track and field, swimming and now in esports and drone/robotic/AI/emerging tech as well. The comprehensive mix of professional level training integrates athletics and academics, skills training and performance training and personal and career development in ways that has never been done before. High school and post grad athletes on one campus, pursuing specialty passions ranging from basketball to e-gaming, swimming to drone racing, pole vaulting or sprinting to future opportunities like culinary or cultural arts…is a career development experience that you just won't find anywhere else in the world today.
SPIRE Institute is the epitome of a 'real world lab' for professional, technical and health and wellness research. Like never before, student trainees and elite athletes will have the chance to train, study and be studied side-by-side with weekend warriors, wounded Veterans, Paralympians, Olympians and Special Olympians, as well as juniors, collegians and adults of all ages and ability levels. SPIRE is truly a melting pot of all things relative to long-term training and education development, and all of this delivered within a fun, healthy and inspiring environment. The "SPIRE Way'' focuses on the development of the whole self – building strong minds, strong bodies and strong character.