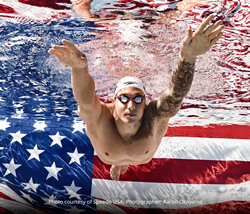 I am excited to join the work SPIRE is doing for athletes all over the world, and I'm especially honored to work with these other great Ambassadors in helping to mentor and provide programming direction for the swimming Academy.
GENEVA, Ohio (PRWEB) September 15, 2020
SPIRE Academy provides an environment for student athletes of all skill levels that enables them to meet and exceed goals within their sport, excel academically, master life's necessary personal skills, and access emerging career opportunities. To that end, SPIRE has assembled a broad-based support network for its student athletes that includes coaches, trainers, house parents, teachers, health and wellness partners, and high-performing professional athletes that serve as "Ambassadors".
SPIRE Ambassadors play a key role in the development of the Academy's student athletes, occasionally working one-on-one with SPIRE's athletes to help them enhance their personal performance, improve athletic ability, and gain a competitive advantage. In addition to this mentoring, SPIRE Ambassadors work with the Academy's integrated team to help develop the innovative, leading-edge programming only available through SPIRE Academy. They also offer their insights to SPIRE's coaches and performance training staff to perfect a program of exceptional coaching, reporting, testing and assessment for every Academy athlete to ensure they are ready to perform at the next level.
SPIRE's corps of Ambassadors includes 12-time Olympic medalist and swimming world record holder Ryan Lochte, two-time Olympian and three-time gold medalist in track and field Tianna Bartoletta, and three-time Olympian, Olympic team captain and swimmer Elizabeth Beisel. Last week, American freestyle and butterfly sprint swimmer Caeleb Dressel committed to supporting and mentoring SPIRE's student athletes along with Lochte, Bartoletta, and Beisel. Dressel, a two-time Olympic gold medalist and 13-time World Champion, is well known not only for his impressive achievements in the pool, but also for his work ethic, sportsmanship, and focus.
Dressel says, "I am excited to join the work SPIRE is doing for athletes all over the world, and I'm especially honored to work with these other great Ambassadors in helping to mentor and provide programming direction for the swimming Academy. The opportunity to work with student athletes, as well as top-notch coaching staff, checks a major box for me and I'm ready to get started!"
A former student at Clay High School in Green Cove Springs, Florida, Dressel trained with The Bolles School, a private college preparatory day and boarding academy in Jacksonville with a reputation for swimming excellence. A former Junior World Champion, NCAA All-American and multi-time National Age Group Record Holder, Dressel won seven gold medals at the 2017 World Championships, tying Michael Phelps for the most won at a world championship meet.
At the 2019 World Championships in Gwangju, South Korea, Dressel surpassed his previous record, winning eight medals at a single swimming world championship. For the second time in his career, the 24-year-old University of Florida graduate won three gold medals in one night, shaving 0.32 seconds off Michael Phelps's world record in the 100m butterfly. He is one of four children, all competitive swimmers. His interests include interests include boating, wake boarding and being outdoors.
SPIRE is under new ownership/leadership, after having been purchased in December 2019 by Axxella, LLC a Baltimore, Maryland-based investment firm owned by Blue Ocean.
"Caeleb is a champion of a person and a champion swimmer, and we're really excited to see him hands-on with our student athletes, sharing his passion and drive for the sport while remaining dedicated to personal growth," said Blue Ocean President and CEO Jonathan Ehrenfeld. "We are humbled to have him as a SPIRE Ambassador and look forward to seeing his continued growth and success with SPIRE for years to come."
-----------------------
ABOUT SPIRE
SPIRE Institute & Academy (IA) (http://www.spireinstitute.org) is one of the largest indoor, professional training and competition complexes in the world. With more than 750,000 sq. ft. under roof and a campus of 300 acres, SPIRE has the unique capacity to simultaneously host a world-renowned sports academy, clubs, leagues, tournaments and championship events, no matter the weather or the season. SPIRE Academy and its expert coaches, teachers and performance trainers offer residential camp and academy training programs in basketball, track and field, swimming and now in esports and drone/robotic/AI/emerging tech as well. The comprehensive mix of professional level training integrates athletics and academics, skills training and performance training and personal and career development in ways that has never been done before. High school and post grad athletes on one campus, pursuing specialty passions ranging from basketball to e-gaming, swimming to drone racing, pole vaulting or sprinting to future opportunities like culinary or cultural arts…is a career development experience that you just won't find anywhere else in the world today.
SPIRE Institute is the epitome of a 'real world lab' for professional, technical and health and wellness research. Like never before, student trainees and elite athletes will have the chance to train, study and be studied side-by-side with weekend warriors, wounded Veterans, Paralympians, Olympians and Special Olympians, as well as juniors, collegians and adults of all ages and ability levels. SPIRE is truly a melting pot of all things relative to long-term training and education development, and all of this delivered within a fun, healthy and inspiring environment. The "SPIRE Way'' focuses on the development of the whole self – building strong minds, strong bodies and strong character.
ABOUT BLUE OCEAN
Blue Ocean is a property management company in Baltimore, MD that is active in syndicating, purchasing and managing investment grade real estate assets in the multifamily, office, retail and industrial sectors. The Company was founded in 2004. Since that time Blue Ocean has grown its portfolio to 35 properties valued at over $400,000,000. The Blue Ocean portfolio consists of approximately 3,700 apartment homes and 2,000,000 square feet of commercial space. For more information, call: (410) 358-2232 or visit: http://www.blueocean.com.