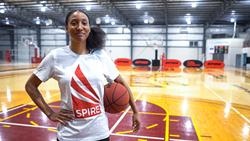 I see my program being home to a very healthy, competitive environment, with like-minded individuals who share a common passion for the beloved sport of basketball.
GENEVA, Ohio (PRWEB) May 16, 2022
Since the announcement earlier this year of a new women's basketball program coming to the international athletic academy, SPIRE accepted numerous applications for the role of Director and Head Coach to lead the way. One application stood out from the rest; former Stanford Cardinal and WNBA champion, Candice Wiggins. The four-time All-American will be joining SPIRE to help build and lead the women's basketball academy in Geneva.
Wiggins is a well-recognized name in women's basketball, boasting a decorated career on the court in both the college and professional ranks. A prominent scorer, Wiggins' collegiate basketball experience at Stanford includes being ranked second in career points in school history and third in Pac-12 history. Alongside her impressive collegiate basketball career, she holds a Bachelor's Degree in Communications from Stanford.
Wiggins went on to play in the WNBA for eight seasons, which included stints with the Tulsa Shock, New York Liberty, Los Angeles Sparks and the Minnesota Lynx. In 2008, she was named WNBA Sixth Woman of the Year and won a WNBA championship in 2011 with the Lynx.
She boasts international professional basketball experience as well, playing in Israel, Greece, Spain and Turkey. Wiggins has worked and coached in AAU and high school basketball since she retired from her professional basketball career.
What drew her to SPIRE was the opportunity to lead and create a new women's basketball program that essentially revolutionizes an approach to both training and competition. Wiggins explains, "It is a position that allows me to serve a sport and a community that has given me so much on all levels, both domestically and internationally: high school, college and professionally."
SPIRE's Director of Basketball, Jeff Javorek, is looking forward to working with Wiggins. "Candice is a huge addition to the SPIRE family. She has a great vision and strategy to help launch and grow the SPIRE women's basketball program. The success she has had in her high school, college and professional playing experience will help shape all of the young women that will come through our program." Javorek adds, "We will be a top destination for young women who want to learn and develop from Candice. She is very passionate, intelligent and hard-working and is excited about giving back to the sport that has done so much for her."
Wiggins sees big potential in SPIRE's women's basketball, saying, "I see the future of women's basketball at SPIRE as a destination for women to become the most dynamic versions of themselves as student athletes, with the world class facilities and resources to enable injury prevention and mental health, in my opinion, the two biggest factors relating to player development. I see my program being home to a very healthy, competitive environment, with like-minded individuals who share a common passion for the beloved sport of basketball."
The addition of Wiggins to the SPIRE coaching team is part of their commitment to placing more women in leadership roles within the academy. Along with recently hired Molly McColloch as Assistant Swim Coach and a soon-to-be-named Assistant Track & Field Coach, SPIRE continues to lead the way when it comes to having a diverse and inclusive leadership team.
Wiggins will host the first women's basketball camp at SPIRE will be on Thursday, June 23rd and is open to girls from ages 9 to 17. The clinic will cover the fundamental skills and competition drills that will highlight the teaching and instruction that will be available full-time for those who join the Academy. For more information, please visit spireinstitute.org/camps/camps-basketball.
About SPIRE
SPIRE Academy is a comprehensive academic, athletic, personal skills and career development experience located within a world class event and wellness complex. Constructed on nearly 500 acres with more than 750,000 sq. ft. under roof, SPIRE (http://www.spireinstitute.org) encompasses four divisions: SPIRE Academy, an accredited college preparatory international boarding school and multi-sport/specialty training and development academy for 9-12 graders and a post grad program; SPIRE Institute, the research and development arm studying performance improvement across multiple disciplines; SPIRE Events, a facility and team that hosts local, national and international tournaments and events with the NCAA, the Big East, Big Ten and Atlantic 10 conferences, Olympic trials and world championship qualifiers; and SPIRE Fit, a community membership-based fitness, swim and health center open to the public. Sports currently featured on campus include swimming, track and field, basketball, esports, drone racing, wrestling, soccer and lacrosse.