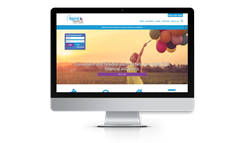 As promised, 30 days after making the decision to go with OMNICOMMANDER the site is live and it looks fantastic. This is one of my new favorites! - Eric Isham, Founder and CEO said.
MIRAMAR BEACH, Fla. (PRWEB) August 02, 2018
OMNICOMMANDER, the leading financial technology firm specializing in ADA compliant website design, social media and marketing for credit unions; announced today that Spirit Financial Credit Union has successfully launched its new website, designed and hosted by OMNICOMMANDER.
Spirit Financial Credit Union sought out the services of OMNICOMMANDER after delays with development and implementation of a new website. Due to project delays Spirit Financial Credit Union went in search of a new website builder and found OMNICOMMANDER. Within 30 days their site was created and built from the ground up and launched to their complete satisfaction.
OMNICOMMANDER Founder and CEO Eric Isham said, "Spirit Financial had a bit of a problem. They had contracted with a third party that for whatever reason couldn't get the job done. I know it's not because of the credit union - these guys are well organized and knew exactly what they wanted. Dave is a sharp guy and was always on time and prepared for all of our calls. As promised, 30 days after making the decision to go with OMNICOMMANDER the site is live and it looks fantastic. This is one of my new favorites!"
Spirit Financial Credit Union CEO Dave Obarowski said, "About a year ago we had selected a company that we thought would be able to build what we were looking for. Unfortunately project delays forced us to seek out a new web developer and hosting company. I contacted OMNICOMMANDER and they told me that they could have the site live in 30 days. That seemed hard to believe, but after doing extensive due diligence and checking with several other credit union references, I decided to move forward with them. I have to say this was the best decision I could have made. Not only did OMNICOMMANDER build the site in 30 days, but it's better than I could have imagined. I would highly recommend them to any credit union looking for a new website."
About OMNICOMMANDER
OMNICOMMANDER is a veteran owned and operated credit union website design, social media and marketing firm. With a focus on member experience, the company ensures every touchpoint has the exact same user interface. Along with incredible design, OMNICOMMANDER creates sites with built-in mobile responsiveness, SSL encryption while observing ADA guidelines on accessibility for disabled members.
About Spirit Financial Credit Union
Spirit Financial Credit Union was established in 1953 as Fairless Employees Credit Union, with the primary goal of helping employees of the United States Steel Corporation. In the 1980s, the credit union became known as Fairless Credit Union, reflecting the credit union's expanded legacy of serving the financial needs of various other employee groups throughout the community. In 2005, their charter expanded again to include members of the Bucks County community. They began using the name Spirit Financial Credit Union in 2016 to reflect their vision of helping the diverse community to achieve personal financial growth throughout all stages of life.
For more information, visit OMNICOMMANDER on LinkedIn, Twitter, Facebook and Instagram.