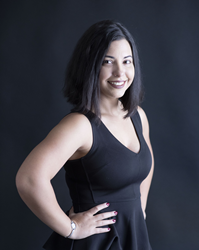 We've grown over 110% over the past four years, and our goals for the next four will more than quadruple that.
RED BANK, N.J. (PRWEB) December 18, 2020
Splendor Design Group, Inc., a leading branding, web and marketing firm, announced this week that Alexandra Venier has been promoted to the position of Vice President. Venier, who has been with the firm for three years, is stepping up from her previous role as Project Manager and Director of Social Marketing.
Splendor's Owner and CEO, Adam Taylor, said, "Alex has shown tremendous leadership, drive, and dedication to our company - all in a relatively short period of time. This promotion to Vice President will position her to continue her superb management duties on projects both internal and external, but also take on new responsibilities that will be integral for our growth."
Venier joined Splendor in 2017 as a dedicated Project Manager, but, as Taylor recalls, "We also had a need to bolster the company and put systems in place. Splendor has experienced steady growth year over year since its 1999 beginnings, but we were fast approaching a breakthrough opportunity. We've grown over 110% over the past four years, and our goals for the next four will more than quadruple that."
Many, if not most, creative services firms enjoy moderate, organic growth via word-of-mouth and referrals. By contrast, Taylor identified specific growth goals for the company with regard to personnel, sophistication of clients, and revenue.
"To reach these aggressive goals, I knew our operation needed to establish protocols and procedures and attract top talent. Our approach to our work has evolved into a disciplined, well-defined methodology, along with impeccable standards for the work we produce and the relationships we keep with our clients."
Venier's contribution to the firm's growth was not happenstance. She explained, "When Adam and I first met, we had a very similar vision for where we wanted to go next. I was looking to build a team and help build a company. He needed help managing operations, as he worked on new business and development. The synergy and timing were perfect, and in a very short time, it became clear that Splendor was a place where I could really commit, establish roots, and build my career over the long term."
"I recognized very quickly that Splendor is an exceptional firm," said Venier. "Many clients - some of whom are prominent businesses throughout New Jersey and the region - regard us as 'NJ's best kept secret.' Our plan is to change that perception, and become the top creative agency in the tri-state region and beyond. And the strategic additions to our team are an important part of that as well."
Taylor added, "Venier is a needle in a haystack. Every one of our clients remarks with gratitude on her professionalism and relentless communications. A few have even tried to poach her away from Splendor! But Alex is a partner in this race with Splendor. This promotion will give her much-deserved recognition, but also the empowerment and autonomy to make critical decisions, guide and build our team, and continue to set and achieve goals. All of this is what creates career satisfaction for someone like Alex."
Splendor is a full-service design, branding and marketing agency that combines big picture strategic thinking with award-winning creativity to solve real-world business problems. For more information, visit https://splendordesign.com.