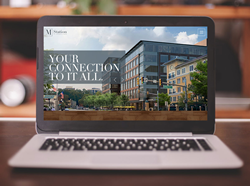 "There is so much thought, design, planning, and engineering that goes into a commercial office property. It would be criminal to leave it up to the tenant to discover a property's perks all on their own. We help them cross the finish line by really showcasing their value."
RED BANK, N.J. (PRWEB) July 31, 2020
Splendor, a creative agency in Red Bank NJ, has built an impressive body of work in the Commercial Real Estate industry in the Garden State and beyond. Working with some of the most high-profile and preeminent developers and brokers in the region, Splendor has a track record of boosting brand awareness and perceived value for properties and spaces.
Prospective tenants are as savvy as ever, and they know that choosing the best space for their team has a big impact on attracting and retaining top talent. In the ultra-competitive race to create the most modern and desirable office workplaces, developers are pulling out all the stops to give their properties an edge.
Splendor has built a reputation for uncovering the unique advantages of commercial properties and bringing them to light in interesting and meaningful creative campaigns encompassing branding, website design, and marketing and advertising.
Owner and CEO Adam Taylor says, "There is so much thought, design, planning, and engineering that goes into a commercial office property. It would be criminal to leave it up to the tenant to discover a property's perks all on their own. We help them cross the finish line by really showcasing their value."
M Station in Morristown, NJ is a prime example of a one-of-a-kind ground-up development with a unique story to tell. Splendor partnered with developer SJP Properties to develop the name for the property, along with a compelling brand position and narrative, and then rolled out a comprehensive suite of marketing materials including website, email blasts, presentation deck, video, and more. These marketing efforts helped secure the signing of a Fortune 100 tenant, before SJP had even started construction.
Country Club Plaza in Paramus, NJ is another property that Splendor worked to put on the map. Working with developer Onyx Equities, Splendor developed the branding, website, and marketing campaign that, according to Onyx marketing manager Rachel Pittard, "Led to more showings - with and without brokers" - and eventually 97% of the available spaces leased. The property ultimately made headlines with a highly profitable sale in 2018.
Splendor also works closely with prominent leasing teams like JLL, CBRE, and Newmark Knight Frank to facilitate would-be tenant tours for properties like Nexus17 and 200 Wood Ave, Metropark. Both of these projects involved similar branding, design and marketing initiatives.
By directing properties' branding initiatives, creative firms like Splendor can control the narrative and articulate property differentiators to brokers and tenants, all of which leads to more attention and more activity for these buildings in an already busy market.
Splendor is a full-service design, branding and marketing agency that combines big picture strategic thinking with award-winning creativity to solve real-world business problems. For more information on Splendor's Commercial Real Estate marketing work, visit us online.