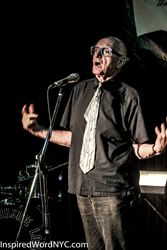 When invited to Rosh Hashana services to speak about Miracles, Gold, spoken word artist, says, "I was honored to be asked. I am Jewish and it feels wonderful to re-explore that connection."
NEW YORK (PRWEB) August 23, 2018
Sim Shalom online synagogue continues to provide innovative services for the Jewish High Holidays. The jazz inspired services are unrivaled and sell out each year. This Rosh Hashana, Joel Gold, spoken word artist and poet, joins Rabbi Steve Blane and his quintet live at the Bitter End.
Joel will offer an improvised monologue about Miracles. He does not prepare a script for his poetry but rather chooses a theme and waits for inspiration and his words to "bubble up". He has been doing this since childhood but begun to perform seriously in the past few years.
Joining Rabbi Blane and Joel are the quintet of Jack Glotman on Piano, Carol Sudhalter on Sax and Flute, Liz Taub on Fiddle, Kevin Hailey on Bass and Frank Levitano on Drums. And Evan Kremin will be back on Shofar!
When asked why he wanted to participate in the services Joel explains that he met Rabbi Blane at an open mic and was surprised that the singer-songwriter was also a Rabbi. Blane has encouraged Gold to pursue his art and when invited to attend Joel says, "I was honored to be asked. I am Jewish and it feels wonderful to re-explore that connection."
To purchase tickets or read more about the High Holidays services visit simshalom.com and to follow Joel's career visit his Facebook page at Joel Louis Gold.
About Sim Shalom:
Sim Shalom is an interactive online Jewish Universalist synagogue which is liberal in thought and traditional in liturgy. Created in 2009 by Rabbi Steven Blane on Manhattan's Upper West Side, Sim Shalom offers a means of connecting the unconnected. Rabbi Blane leads accessible and short Shabbat services every Friday night using a virtual interface and additionally Sim Shalom provides online education programs, Jazz concerts, conversion and life-cycle ceremonies along with weeknight services at 7:00PM EST led by Rabbis and students of this online community.
Rabbi Blane is also the founder and director of the Jewish Spiritual Leader's Institute, http://www.jsli.net, the online professional rabbinical program.
Sim Shalom, a non profit 501 © (3) tax-exempt organization, nurtures a Jewish connection through its mission of innovative services, creative education and dynamic outreach to the global community.