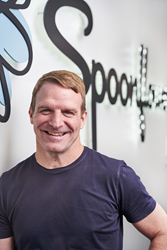 "Spoonflower is one the best-kept secrets in the e-commerce industry," said Jones. "Everyone—from artists and makers to employees and shareholders—should be excited for what's in store for the future of our business."
DURHAM, N.C. (PRWEB) February 05, 2020
Spoonflower, the world's largest custom fabric and home decor digital marketplace, announced today that its board has chosen Michael Jones as the organization's new Chief Executive Officer. Jones brings more than 25 years of expertise in e-commerce, marketplaces, and technology to the company. He succeeds Gart Davis, the company's co-founder, who is stepping into the new role of Chief Operating Officer.
"Michael is exactly the right leader for Spoonflower's future," said Davis. "His strong management experience will help shape the company as we continue to accelerate growth internationally, and his strategic depth and keen understanding will catalyze Spoonflower forward as a leader in e-commerce. As COO, I look forward to working with Michael and our internal and partner teams to extend our innovative work in print and manufacturing, delivering custom-made premium products that delight our e-commerce customers with increasing efficiency, quality, and speed."
In just over a decade, Spoonflower has disrupted the textile manufacturing industry by offering consumers and makers their choice of high-quality custom-printed fabric by the yard, featuring any design imaginable, whether their own or from independent artists across the globe. In 2016, the North Carolina-based business opened a second factory in Berlin, Germany, to better serve audiences in the rapidly growing EMEA regions.
The company's recent expansion into wallpaper and home decor has invited new consumer segments to purchase the same vast offering of designs on made-to-order products for their homes, businesses and more. Due to strong demand for these newer categories, the company is investing in key leadership positions to support the future trajectory of the company.
"Spoonflower has a unique value proposition, combining print-on-demand technology with a vast independent artist Marketplace, placing it at the nexus of e-commerce, technology, and manufacturing," said Scot Wingo, member of Spoonflower's board of directors. "I worked alongside Michael for ten years at ChannelAdvisor and believe that he is the right person to lead Spoonflower into this new decade, given his strong command of these nuances and his customer-first philosophy."
Jones most recently was Chief Revenue Officer at Amplience, a London-based headless content management platform, where he was responsible for all worldwide marketing, sales, business development, customer success, and professional services. He previously held leadership positions at Anatwine - acquired by Berlin-based Zalando, RetailMeNot (acquired by Harland Clarke), eBay, and ChannelAdvisor.
"Spoonflower is one the best-kept secrets in the e-commerce industry," said Jones. "Under the leadership of Founders Gart Davis and Stephen Fraser and President Allison Polish, Spoonflower reimagined the textile manufacturing industry and cultivated a thriving artist community to deliver unique products made with sustainable and scalable custom printing. Everyone—from artists and makers to employees and shareholders—should be excited for what's in store for the future of our business."
ABOUT SPOONFLOWER
Spoonflower is a global marketplace connecting makers and consumers with artists worldwide. The company's on-demand digital printing platform has revolutionized the textile industry in its development of an eco-friendly, sustainable and scalable manufacturing process. With Spoonflower, consumers can either design their own patterns on premium fabric, wallpaper and home goods or shop from the world's largest marketplace of over 1 million designs from independent artists. Today, millions of individuals use Spoonflower to express their personal style and power their entrepreneurial spirit.
For more information on Spoonflower visit https://www.spoonflower.com/en/about
Press Contact:
Sarah Ward
Senior Vice President of Marketing at Spoonflower
Email: press@spoonflower.com