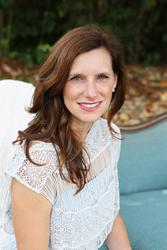 I am confident Jessica's experience, tenacity and passion for our customers will be instrumental to Spoonflower's continued evolution and success.
DURHAM, N.C. (PRWEB) August 18, 2020
Spoonflower, the world's largest custom fabric, wallpaper and home decor digital marketplace, today announced the appointment of Jessica Lesesky as the company's Chief Revenue Officer. Lesesky, a seasoned e-commerce and marketplace executive, will be responsible for driving sales for Spoonflower, focusing on brand and performance marketing initiatives as well as customer acquisition and retention. This strategic leadership addition comes at a time when the company is experiencing substantial growth and expanding its leadership team.
"At Spoonflower, we're focused on growing the business responsibly to keep our customers top of mind and continue to provide a source of income for our artist community," said Michael Jones, Chief Executive Officer, Spoonflower. "I can't think of a better person to manage these efforts than Jessica. In her short time here she's already driven meaningful growth for Spoonflower, serving as an integral part of our COVID-19 response hub, building relationships with strategic partners like the Masks Now Coalition for our Buy A Mask, Give a Mask program and positioning us to achieve an incredible increase in new customers. I am confident Jessica's experience, tenacity and passion for our customers will be instrumental to Spoonflower's continued evolution and success."
Lesesky is a digital commerce veteran with several senior leadership positions focused on revenue, marketing and business development at organizations such as eBay, Barnes & Noble and ChannelAdvisor. Recently, she held positions as SVP of Sales and Account Management at Zalando SE, VP of Online Channels & International at Charles & Colvard, Ltd., and VP of Retail Solutions at Assurant Solutions.
"Throughout my career, I've always found inspiration in companies that create opportunities for everyday entrepreneurs," said Jessica Lesesky, Chief Revenue Officer, Spoonflower. "Spoonflower provides that opportunity for millions of artists and makers, creating a community that celebrates creativity and individuality as well as a marketplace of endless choices for customers. I am excited to partner with the incredible team at Spoonflower to make this brand a household name by developing strategic relationships and launching initiatives that support our artists, makers and designers."
Lesesky's appointment follows Spoonflower's appointments of Chief Executive Officer Michael Jones and Chief Financial Officer Brad Schomber earlier this year as the company positions itself for long-term growth. Spoonflower is actively recruiting a Chief Technology Officer as well as a Head of Diversity, Equity, Inclusion and Sustainability to further round out its leadership team.
Year to date, DIY projects, home makeovers and face masks have driven significant demand for Spoonflower products. Critical hires such as Lesesky will position Spoonflower to continue to accelerate its growth, support its artist community, and solidify its reputation as the premier destination for print-on-demand wallpaper, fabric, home decor and recently, masks.
ABOUT SPOONFLOWER
Spoonflower is a global marketplace connecting makers and consumers with artists worldwide. The company's on-demand digital printing platform has revolutionized the textile industry in its development of an eco-friendly, sustainable and scalable manufacturing process. With Spoonflower, consumers can either design their own patterns on premium fabric, wallpaper and home goods or shop from the world's largest marketplace of over 1 million designs from independent artists. Today, millions of individuals use Spoonflower to express their personal style and power their entrepreneurial spirit.
For more information on Spoonflower visit http://www.spoonflower.com.