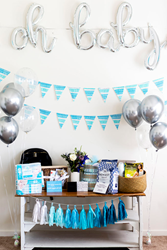 This partnership was such a natural fit and we can't wait to see how our creative community gets inspired. - Jessica Alba
DURHAM, N.C. (PRWEB) September 15, 2020
‍Spoonflower, the world's largest custom fabric, wallpaper and home decor digital marketplace, today announced a strategic partnership with leading baby and clean beauty brand The Honest Company. Wallpaper, growth charts and decals featuring the most iconic and popular designs from The Honest Company are now available for customers to shop and purchase on Spoonflower.com.
Founded in 2012, The Honest Company is a mission-driven consumer products company dedicated to empowering people to live happy, healthy lives. With a shared passion for creating safe, beautiful and high-quality products, this partnership with Spoonflower brings six of their most popular prints and patterns to life in wallpaper and decorative decals such as growth charts and accessible frameable art. Additionally, the collaboration offers these designs in printable DIY banners, serving as a perfect touch of decoration for both virtual and in-person baby showers and birthday parties.
"We are so excited to bring our most-loved diaper and layette prints into the décor space through our partnership with Spoonflower," said Jessica Alba, Founder, The Honest Company. "I have always been such a huge fan of Spoonflower––our brands align across so many of our core values, from sustainability, to a focus on safe, clean ingredients––and of course, design! This partnership was such a natural fit and we can't wait to see how our creative community gets inspired."
"In many ways, The Honest Company pioneered the concept of being a values-driven organization," said Michael Jones, CEO of Spoonflower. "We admire what Jessica and her team have accomplished, and aspire to be similarly customer-focused and mission-driven at Spoonflower. It's an honor to partner with The Honest Company to share new products and designs with our collective audiences."
The companies kicked off the strategic partnership in June, working together to provide virtual baby showers to expectant parents impacted by COVID-19. Deserving families working on the frontlines as doctors, nurses and members of the military received a package of The Honest Company products along with coordinating Spoonflower decor to set the perfect scene for a virtual celebration.
"Collaborating with Honest strengthens so many of our shared brand values in quality, care and creativity," said Jessica Lesesky, Chief Revenue Officer, Spoonflower. "We are thrilled to bring Honest customers even more product choices and inspiration for nursery, playroom and bedroom decor through this partnership."
Shop The Honest Company's Spoonflower shop for nursery and children's playroom designs including Skulls, Pattern Play, Pandas, Rose Blossom, Painted Feathers, Space Travel and Cactus here: http://bit.ly/SpoonflowerxHonest. Browse, like and share the collaboration on social media using #SpoonflowerxHonest.
ABOUT SPOONFLOWER
Spoonflower is a global marketplace connecting makers and consumers with artists worldwide. The company's on-demand digital printing platform has revolutionized the textile industry in its development of an eco-friendly, sustainable and scalable manufacturing process. With Spoonflower, consumers can either design their own patterns on premium fabric, wallpaper and home goods or shop from the world's largest marketplace of over 1.8 million designs from independent artists. Today, millions of individuals use Spoonflower to express their personal style and power their entrepreneurial spirit. For more information on Spoonflower visit http://www.spoonflower.com.