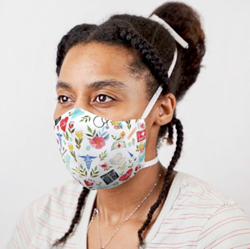 DURHAM, N.C. (PRWEB) July 15, 2020
Spoonflower is pleased to launch the "Buy A Mask, Give A Mask" initiative in partnership with The Masks Now Coalition public service organization.
The "Buy A Mask, Give A Mask" program provides consumers an opportunity to directly impact the Personal Protective Equipment (PPE) shortage, while also protecting themselves.
For every custom mask sold, one will be donated directly to the people who need them most—patients, healthcare workers, at-risk community members, and essential workers, including postal workers, grocery store workers, manufacturing personnel, and more.
Spoonflower, the world's largest custom fabric and home decor digital marketplace, prints fabric and wallpaper on demand from its headquarters in Durham, North Carolina. The Masks Now Coalition is a national volunteer group with 12,000 volunteers sewing masks and providing them to healthcare providers in every U.S. state.
With the "Buy a Mask, Give a Mask" program, consumers can select from over 1.8 million designs on Spoonflower.com, enabling them to showcase their own personal style via their custom mask. Spoonflower's team of expert in-house sewers then produce each reusable mask in either a curved or gaiter style, using templates that have been reviewed by local healthcare professionals.
For each mask purchased, Spoonflower sends a fabric donation to The Masks Now Coalition, which mobilizes its team to sew the masks and distribute them to the areas most in need.
"There is still a great demand for and a shortage of masks, especially as stay-at-home orders are being lifted. In fact, we currently have outstanding requests for more than 500,000 masks," said Rachel Emard, a national organizer for The Masks Now Coalition as well as a sewist. "This partnership will allow us to serve even more communities, healthcare professionals, and essential workers who desperately need our help."
To date, Spoonflower's community has produced over 150,000 non-medical grade fabric masks through grass-roots initiatives to assist in the fight against COVID-19, with hundreds of thousands more sold through Spoonflower makers on sites such as Etsy and in their personal stores.
"In just a few short months, masks have become mainstream. Not only are they helping to keep our front line heroes safe, but they are also quickly becoming a new normal for all of us to stay healthy when we leave our home," said Michael Jones, Spoonflower's CEO. "Our goal is to normalize mask-wearing by giving consumers an opportunity to take advantage of our vast design catalog to express themselves through their own custom mask, while also giving back to those in need."
For those who prefer to make their own mask, Spoonflower has also created a made-to-order DIY Kit that includes supplies, instructions, and templates to create two masks for just $10. Makers can even select their very own mask designs from Spoonflower's marketplace.
Follow and join the "Buy A Mask, Give A Mask" movement on social media using the hashtag #ThisMaskGivesBack and visit https://www.spoonflower.com/en/face-mask for more information or to purchase a mask that gives back.
###
About Spoonflower
Spoonflower is a global marketplace connecting makers and consumers with artists worldwide. The company's on-demand digital printing platform has revolutionized the textile industry in its development of an eco-friendly, sustainable, and scalable manufacturing process. With Spoonflower, consumers can either design their own patterns on premium fabric, wallpaper, and home goods or shop from the world's largest marketplace of over 1 million designs from independent artists. Today, millions of individuals use Spoonflower to express their personal style and power their entrepreneurial spirit. For more information on Spoonflower visit http://www.spoonflower.com.
About The Masks NOW Coalition
The Masks Now Coalition is a grassroots movement of over 12,000 nationwide volunteers working together to help protect frontline workers and healthcare professionals through sewing and donating masks to organizations in need. More than 2,000 organizations have requested over 600,000 masks from the coalition, across every state in America, Puerto Rico, and Washington, D.C. The Masks Now Coalition national hotline organizes volunteers, accepts donations and distributes free mask patterns to the public when people text the word 'masks' to 50409. For more information visit http://www.masksnow.org.