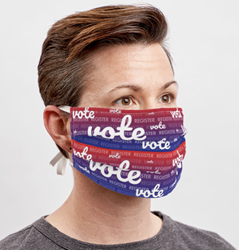 DURHAM, N.C. (PRWEB) September 22, 2020
Spoonflower, the world's largest custom fabric, wallpaper, and home decor digital marketplace, today announced that it will begin making masks in bulk for businesses. Spoonflower is launching the new enterprise by partnering with Vote.org to provide custom-designed masks available for purchase on the organization's website. Vote.org is the largest 501(c)(3) non-profit, non-partisan voting registration and awareness technology platform in America.
"With the election right around the corner, partnering with Vote.org offered a timely and relevant opportunity to kick off our business-to-business mask-making capabilities," said Michael Jones, CEO of Spoonflower. "COVID-19 and social distancing requirements are making voting more challenging this year, so we're honored to partner with Vote.org to encourage safe voting for everyone."
"Now more than ever, we must make sure everyone who is eligible to vote can cast their ballot safely. We are proud to partner with Spoonflower in creating these masks and hope that they will help spread the message that it is crucial to participate in this fall's election," said Vote.org CEO Andrea Hailey. "By making voting safer, and in turn, getting more people to vote, we create a strong, more representative democracy."
Vote.org works to educate the public about their voting options, many of which have changed with the pandemic. In addition to encouraging mask wearing for safe voting, Vote.org also helps people register to vote, locate a polling site, request an absentee ballot to vote by mail, and more. So far this year, Vote.org has helped 4.2 million voters verify their registration status, helped register 2 million new voters, and has received 2.2 million absentee ballot requests. Operating in all 50 states, Vote.org has had over 41 million users access its platform for critical voting information.
Artists and activists Ann Luskey and Kate Damon approached Vote.org with the idea of making vote masks for the upcoming November presidential election. Ann and Kate designed two custom masks, both of which are available to purchase for $15 via the Vote.org online store at https://shop.vote.org/. The proceeds from the sale of the masks will go toward funding Vote.org's larger mission of working to ensure that the electorate matches the population.
With regard to Spoonflower's wholesale mask-making capabilities, the company can produce up to 10,000 masks per day and is able to print any custom design, logo or pattern on a double-layer, pleated cotton face mask. Sold in quantities of 500, the wholesale custom face masks fit most adults, and have elastic ear loops for a flexible fit. To find out more or to place your order, please visit the Spoonflower Wholesale Masks webpage at bit.ly/B2BMask.
For those interested in smaller quantities of masks, Spoonflower also offers a DIY mask kit that includes everything needed to sew two masks: bit.ly/SFMaskKit. These masks can feature a custom design or any of the 1.8 million available designs created by Spoonflower's independent artist community. For every mask kit sold, Spoonflower will donate a mask directly to the people who need them most—patients, healthcare workers, at-risk community members, and essential workers.
ABOUT SPOONFLOWER
Spoonflower is a global marketplace connecting makers and consumers with artists worldwide. The company's on-demand digital printing platform has revolutionized the textile industry in its development of an eco-friendly, sustainable and scalable manufacturing process. With Spoonflower, consumers can either design their own patterns on premium fabric, wallpaper and home goods or shop from the world's largest marketplace of over 1.8 million designs from independent artists. Today, millions of individuals use Spoonflower to express their personal style and power their entrepreneurial spirit.
For more information on Spoonflower visit http://www.spoonflower.com.