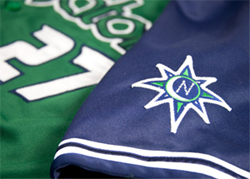 It's exciting to see my design work come to life on a baseball uniform.
Cincinnati, Ohio (PRWEB) July 17, 2014
Blitz Media Design announced that two of Scott de Fasselle's sports logo designs were selected for teams in the Lewis & Clark Baseball League (LCBL). The open contest allowed designers to submit primary and secondary logos and uniform designs for online voting. The top vote getters advanced to the league executive committee for final selection.
The team names are based on derivatives of Meriwether Lewis and William Clark's various job titles. Having 12 teams describing the same two historical figures required some creative thinking to forge unique visual identities. Scott de Fasselle's winning designs were for the Navigators (scheduled to start play next season) and Lookouts.
For the Navigators baseball team logo, Scott created a crescent moon and constellation design inspired by navigation techniques used by Lewis and Clark. The league was torn between this initial design and the entry by Fooser Sports Design, and asked both to collaborate on combining their work into the final design on the uniforms.
As Lewis mentioned the Great Horned Owl a few times in his journals, Scott thought the bird would be an ideal mascot for the Lookouts baseball team logo.
According to Scott de Fasselle, "It's exciting to see my design work come to life on a baseball uniform, and I'm grateful to everyone who supported me."
Designers were able to attend the league's All Star game at Busch Stadium. In addition to meeting one another, attending designers were able to meet with retired Hall of Fame baseball player Lou Brock, an honorary advisor of the LCBL. Winning designers also received some team apparel with their designs.
About Blitz Media Design
Started as Web Refinements in 1999, the Ohio design firm serves clientele across the globe. "Designing for Results" is more than the company's slogan — it's their guiding principle. The design focus is making profit for commercial clients, and getting converts for non-profits.
The company believes that design is not simply about art — a successful design project has specific marketing goals, and requires a collaboration of the client's product or service expertise with Blitz Media Design's design and usability experience.
Blitz Media Design services include services include:

Web Development, including website design, hosting, and search engine optimization
Graphic Design, including logos, print design, multimedia presentations, and trade show displays
Marketing Services, including web site promotion, social media, direct mail, and e-newsletters
Product photography, image restoration, and retouching
For further information, please visit http://www.blitzmediadesign.com or call 937-550-9950.