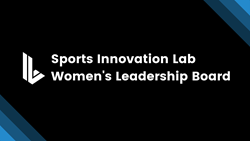 The pandemic shook the foundation of sports and leveled the playing field, providing an opportune time for women to step in and innovate, and the Women's Leadership Board provides a springboard for that leadership to flourish
BOSTON (PRWEB) March 03, 2021
Sports Innovation Lab, known for launching the first-ever Leadership Board program for the sports industry in 2019, has unveiled its newest leadership board program: the Women's Leadership Board. Composed of 22 of the industry's most influential women in sports, media, and technology, the Women's Leadership Board is dedicated to elevating women in the industry by allowing its members to leverage the collective power of such a network, and the unparalleled data and research owned by Sports Innovation Lab.
"I've spent my career breaking down barriers for women to reach new heights," said Sports Innovation Lab CEO and 4X Olympic medalist Angela Ruggiero. "The pandemic shook the foundation of sports and leveled the playing field, providing an opportune time for women to step in and innovate, and the Women's Leadership Board provides a springboard for that leadership to flourish."
The inaugural members of the Women's Leadership Board include representatives from properties, teams, brands, media, investment, and technology companies:

Val Ackerman, Commissioner at the Big East Conference
Renie Anderson, EVP, NFL Partnerships & CRO at the NFL
Jessica Berman, Deputy Commissioner & EVP, Business Affairs at the National Lacrosse League
Melissa Brenner, EVP of Digital Media at the NBA
Lynne Biggar, Chief Marketing Officer at VISA
Heidi Browning, Senior EVP, CMO at the NHL
Kathy Carter, CRO at LA28 Olympic and Paralympic Games & CEO at U.S. Olympic and Paralympic Properties
Keia Clarke, CEO at the New York Liberty
Laura Gentile, SVP, Marketing & Social Media at ESPN, Founder of espnW
Valéria Herzer, Director, Global Entertainment Marketing at the Coca-Cola Company
Amy Howe, President at FanDuel
Tanya Hvizdak, VP, Women's Global Sports Marketing at Nike
Kate Johnson, Director, Global Marketing Partnerships, Content, & Sports Media at Google
Ilana Kloss, CEO at Billie Jean King Enterprises
Sarah Lewis, Former CEO at International Ski Federation
Stephanie McMahon, Chief Brand Officer at WWE
Dr. Laila Mintas, CEO at PlayUp
Meka White Morris, CRO at Tappit
Caryn Seidman-Becker, Chairman & CEO at CLEAR
Sanyin Siang, CEO & Board Advisor, Exec Dir, Fuqua/Coach K Leadership & Ethics Center at Duke University
Assia Grazioli-Venieri, Co-Founder at Muse Capital
"When influential women come together with the specific objective of re-thinking how organizations function in this brave new world, and have the ability to share their experiences, knowledge and insights, innovative things will happen," said board member Laura Gentile, SVP, Marketing & Social Media at ESPN and founder of espnW. "We are all focused on what the future holds and how we can drive breakthrough opportunities together."
As a market intelligence organization known for its groundbreaking research and defining the Fluid Fan™, Sports Innovation Lab will be providing a curriculum to the Board members that keeps them informed as to the leading and bleeding edge of technology in the industry, and the trends impacting the fan experience. Members will also participate in curated and facilitated networking with an eye towards deal flow and strategic partnerships.
"The remarkable thing about the Women's Leadership Board is that it convenes a group of impressive women to solve the issues that influence women in sports," said Keia Clarke, CEO of the New York Liberty. "I believe that now is the time to push this industry to the next level, and this is the group to do it."
About Sports Innovation Lab
Sports Innovation Lab is leading a sports research revolution. Sports Innovation Lab exists to educate clients on the technological possibilities for their brand and how to ultimately drive value to the end consumer: the Fluid Fans™. Sports Innovation Lab inspires brands to create breakthrough fan experiences through data-driven technology insights and industry-leading research. You can learn more about Sports Innovation Lab at https://www.sportsilab.com/.
About ESPN, Inc.
ESPN, Inc., is the leading multinational, multimedia sports entertainment brand featuring a portfolio of multimedia sports assets. It is comprised of nine U.S. cable networks (ESPN, ESPN2, ESPNEWS, ESPNU, ESPN Classic, ESPN Deportes, SEC Network, ACC Network, and Longhorn Network; five with HD simulcast services). Other entities include direct-to-consumer video service ESPN+, an array of digital products and platforms (ESPN.com, the ESPN App, ESPN Fantasy, espnW, The Undefeated, and more), ESPN Audio, ESPN International (reaching 71 countries and territories across platforms, including 26 networks and syndication), ESPN Events, and more. Based in Bristol, Conn., ESPN is 80 percent owned by ABC, Inc., an indirect subsidiary of The Walt Disney Company. Hearst holds a 20 percent interest in ESPN.
About New York Liberty
The New York Liberty was founded on October 30, 1996 and is one of three original franchises remaining in the Women's National Basketball Association (WNBA). The Liberty have made four WNBA Finals appearances in its 24-year history. Owned by Joe and Clara Tsai, owners of the Brooklyn Nets, the Liberty will play its home games at Brooklyn's Barclays Center. For more information, please visit NYLiberty.com.